DESIGN
The Croyde 2 Section Examination Couch is strong, stable and smooth in operation.
It has an excellent low height position to facilitate easy entry & exit, whilst also retaining a high height position that allows it to be set-up for taller clinicians.  This feature also provides easy access for cleaning
The couches are available to order with retractable wheel bases or with castors if movement in-between rooms is required.
Available with a choice of electric or hydraulic profiling functions and with a range of upholstery colours, the couches can be ordered specifically to suit the end user
RETRACTABLE WHEEL BASE
The couch is secured into position by activating the brake and lowering the feet onto the floor using the retractable wheel base system.
When the brakes are removed, small castors are deployed to allow the couch to be moved for cleaning purposes.
If the couch needs to be moved between rooms, mobile castors can be ordered instead of the retractable wheel base.  This makes moving the couch much easier over longer distances
HEIGHT ADJUSTMENT
The couch has an excellent height range adjustment from 45cm to 98cm.
The excellent low height position makes it easier to get on and off the couch and the 240kg weight capacity ensures it can accommodate a significant proportion of users.
Electric hi-lo is standard but hydraulic options are available if preferred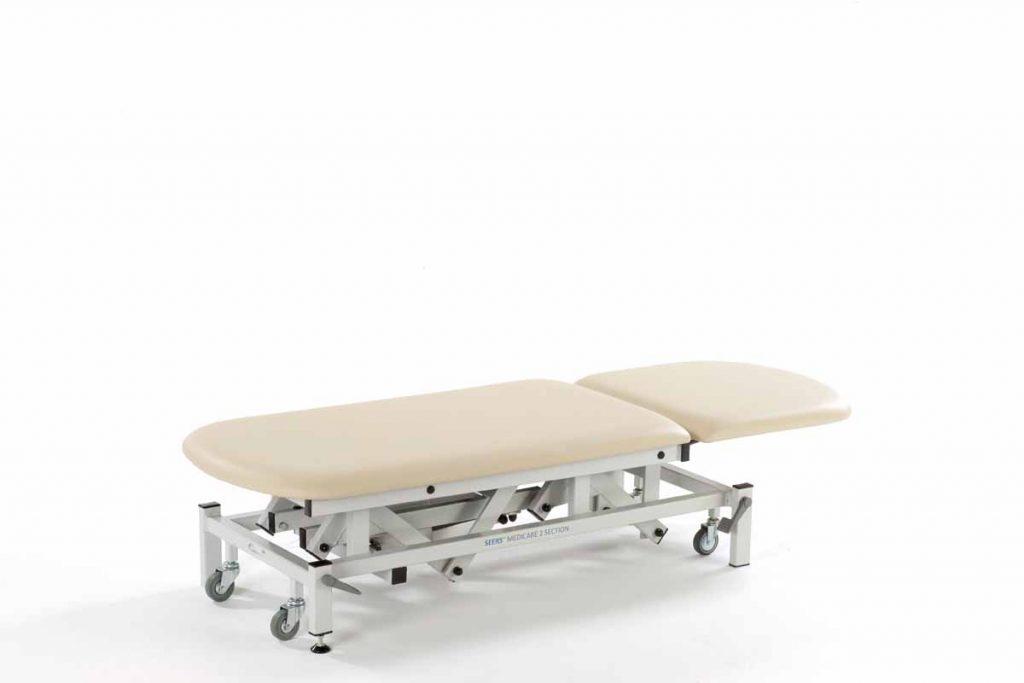 OPTIONAL EXTRAS
There is a range of additional options for the couch but popular extras include:
Changing the wheels to castors with brakes
Paper roll holder
Side rails
Drip stands
Head bolster cushion
CHOICE OF COLOURS
Croyde Examination Couches are available in a wide range of colours
Click here to view the selection