The Herida Essex™ is a thoroughly robust Birthing Mattress that has been specifically developed for repeated use within the challenges of most maternity environments.
Similarly, our design teams ensure that our tailored service ensures fitting of most beds available on the market today.
As standard, the robust but gentle feeling high frequency welded cover, complete with non-slip base, provides total infection control consideration whilst allowing *repeated cleaning without deterioration.
Prolonged labour periods can often result in skin reddening, where our specialist foam and cover selections work with modern re-positioning practices. Our bespoke foam ensures that where required, a specific application to most birthing bed designs is available.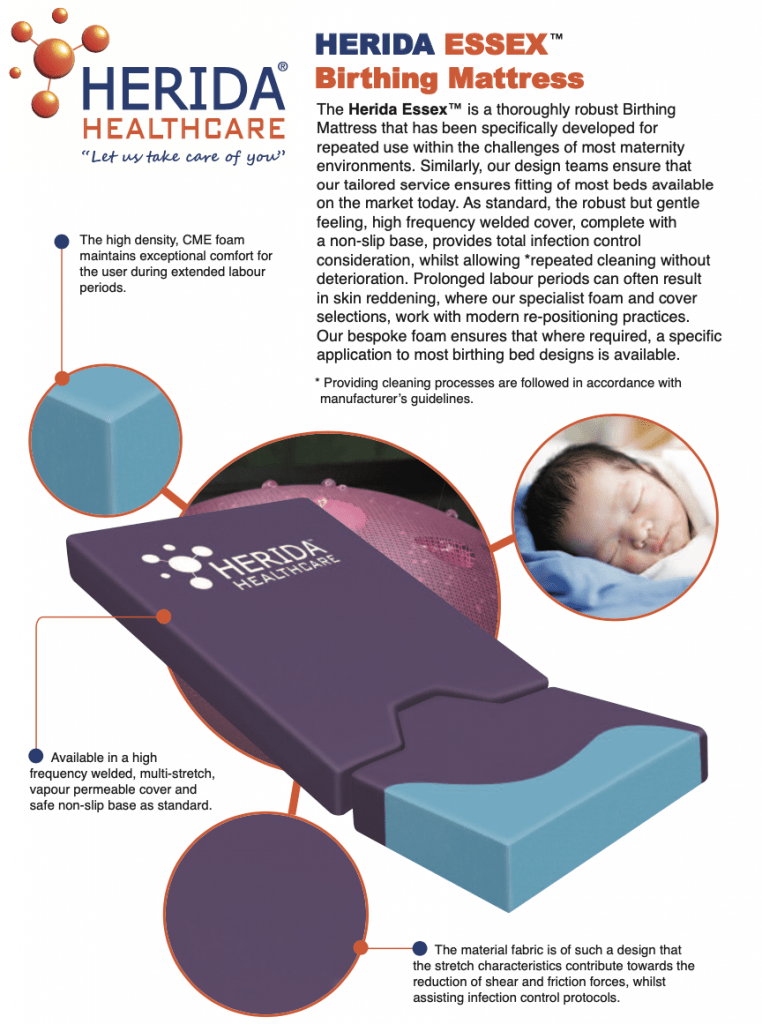 Features & Benefits
Multi-stretch, vapour permeable, high frequency welded cover with non-slip base
Aids infection control, reduces shear friction & improves patient safety
Reduces possibility of fluid ingress on busy maternity wards
Covers can be easily cleaned & laundered up to 80°C
Complies with strict infection control policies in the high turnover maternity environment
Fully complies with British Standards
Provides total confidence to user via exceptional quality and workmanship
Giving peace of mind to nursing staff and patients alike
Technical Information
High Risk
Very Severe
40 stone or 254 kgs
Made to measure service available – to fit most birthing beds
<15 kgs total components
39 – 40 kgs / M³ or V50 – 60 visco
200 N or visco soft to medium
205 – 235g
Fire Retardancy Standards
Exceeds minimum requirements of Crib 5 Composite testing (certification available upon request) BS7177
2 years