Lateral tilt
The lateral tilt of the Latera Thema bed assists with turning the patient with the help of just one nurse and with minimal physical effort.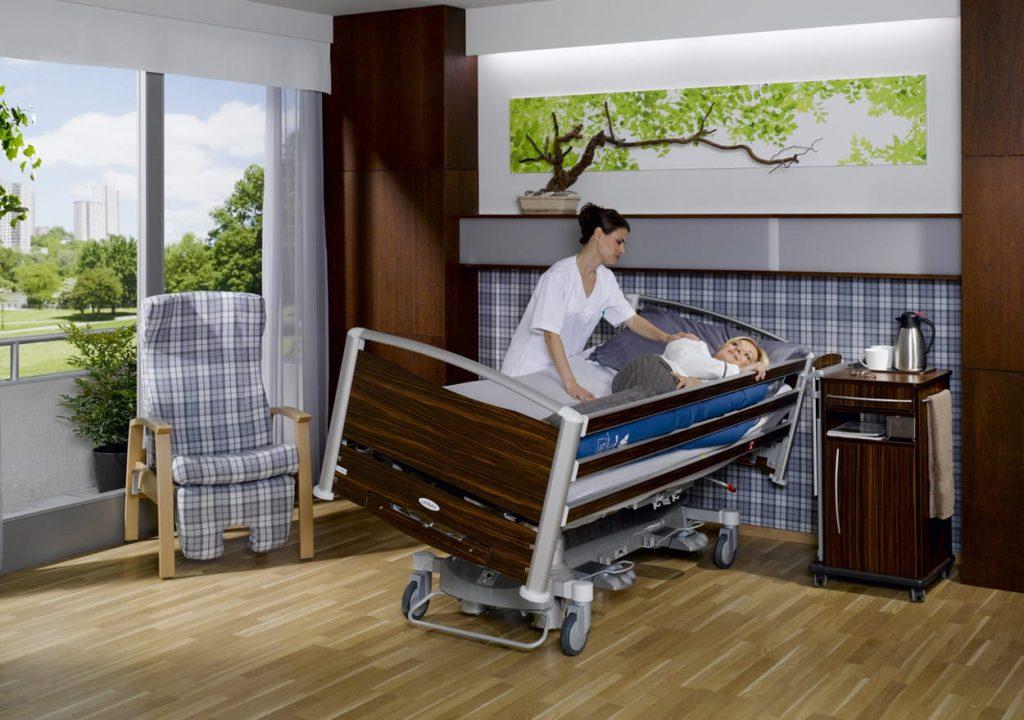 Infection control
Construction features of the Latera Thema bed, such as column units, mattress platform covers, etc., play an important role in preventing the spread of hospital infections.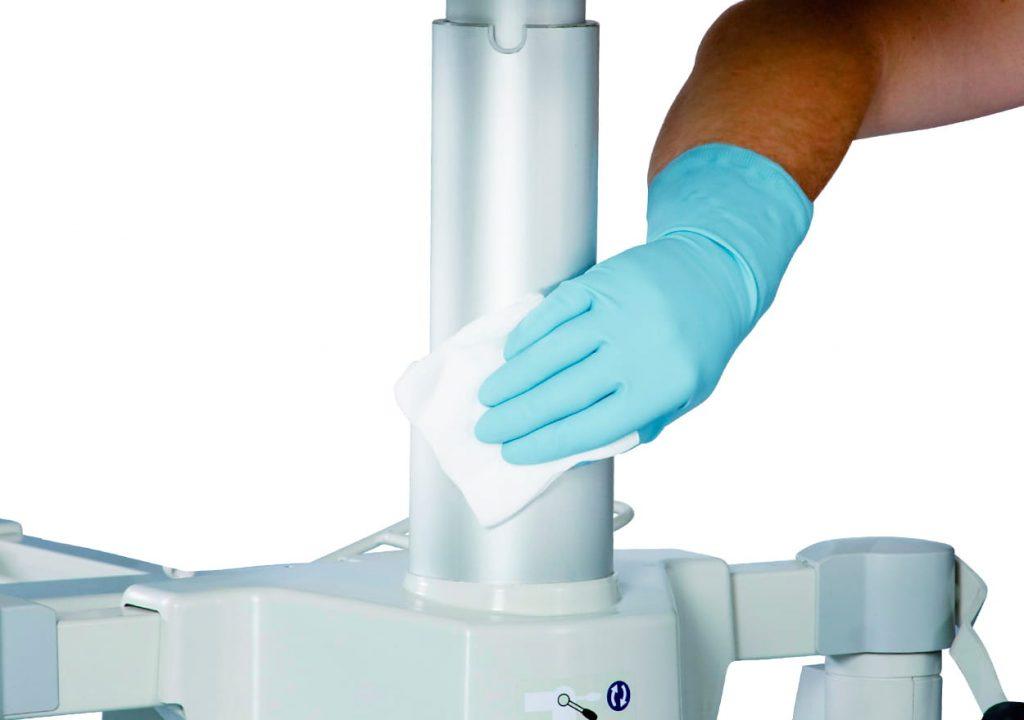 Column unit
The column unit of Latera Thema is patented. The bed's unique construction base provides stability and guarantees continued functionality when loaded to 200 kg (safe working load).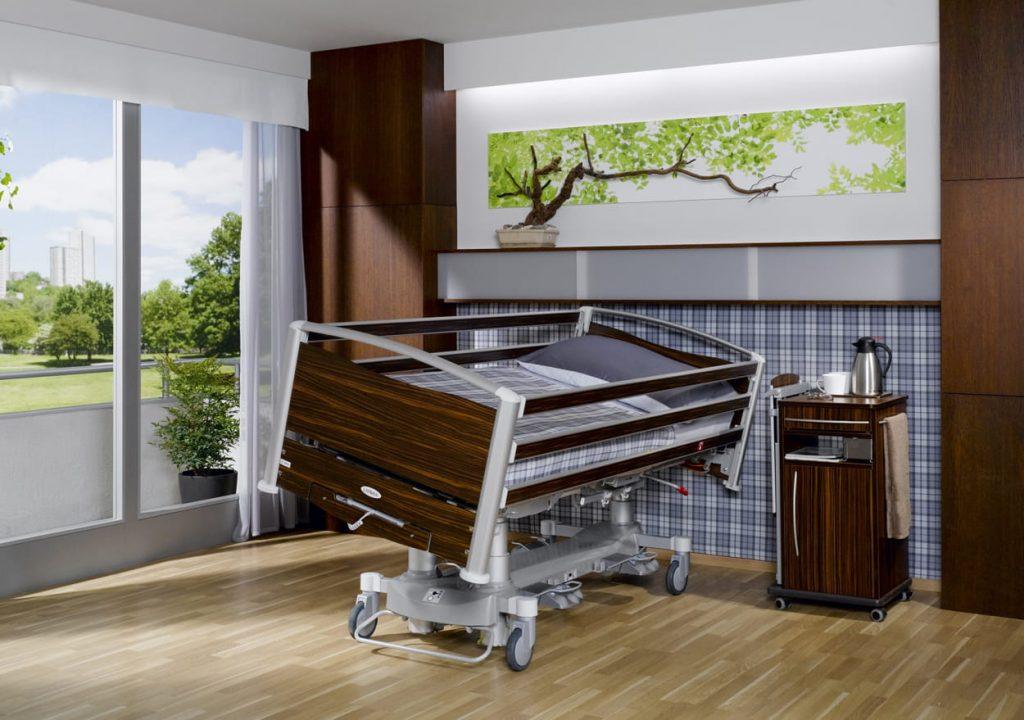 Back rest autoregression
The autoregression of the mattress platform extends the pelvic area by creating extra space and thus helps to prevent pressure ulcers while enhancing patient comfort.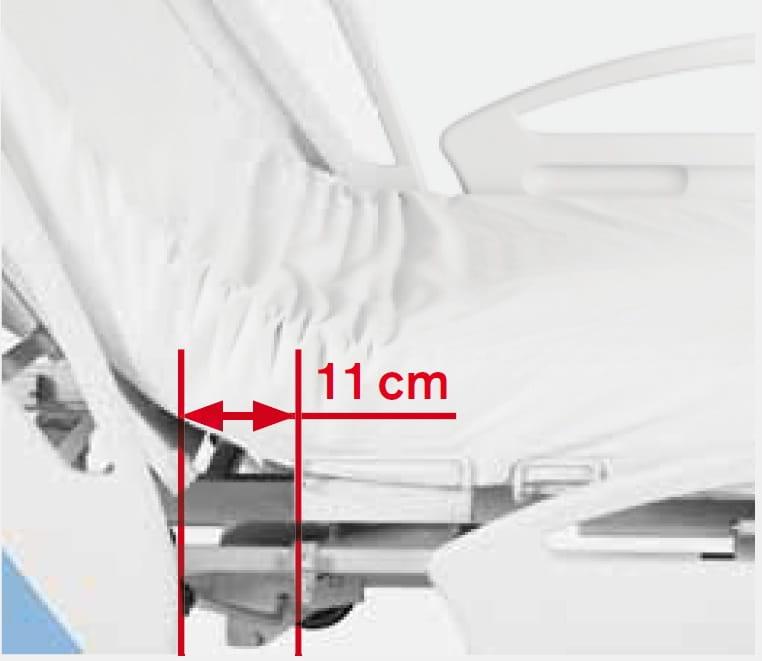 Technical parameters
| | |
| --- | --- |
| External dimensions | 219 x 102.5cm |
| Mattress platform dimensions | 200 x 86cm |
| Maximum mattress height | 20cm |
| Mattress platform height adjustment | 43 –81cm |
| Maximum backrest angle | 60° |
| Maximum thigh rest angle | 46° |
| Trendelenburg/Reverse Trendelenburg position | +16°/-16° |
| Autoregressionof backrest | 11cm |
| Weight (dependingon equipment) | 160kg |
| Safe working load | 200kg |
Basic positioning and adjustments
Height adjustment motors
TR/ATR tilt adjustment motors
Backrest adjustment motor
Thighrest adjustment motor
Calfrest mechanical ratchet
Bed extension mechanical
Control Elements
Handset
Supervisor panel
Foot controls
Satellite control panel
Side Rails Concept
Full length side rail with a double locking mechanism
Mattress Platform
Autocontour of 11 cm (retraction of back rest).
General Concept
The column unit is patented. The bed's unique construction base provides great stability and guarantees a functional safe working load of 200 kg.
Bed ends
Removable head and foot ends H05 design, with aluminium corner columns
Castors and brakes
Central locking of all castors from 2 points
4 castors ⌀150 mm Tente Motion
4 castors ⌀150 mm Tente Integral (O)
Antistatic castor
5th castor (O)
Decors