SIMPLY A LUXURIOUS BIRTH POOL
The Active Birth Pool is fully optimised to help mothers and midwives experience better water birth outcomes.
It is feature rich with a design crafted from decades of experience and is the birth pool of choice for a huge number of amazing birth facilities all over the world.
The soft, round contours and curvaceous form make this pool incredibly comfortable and visually stunning.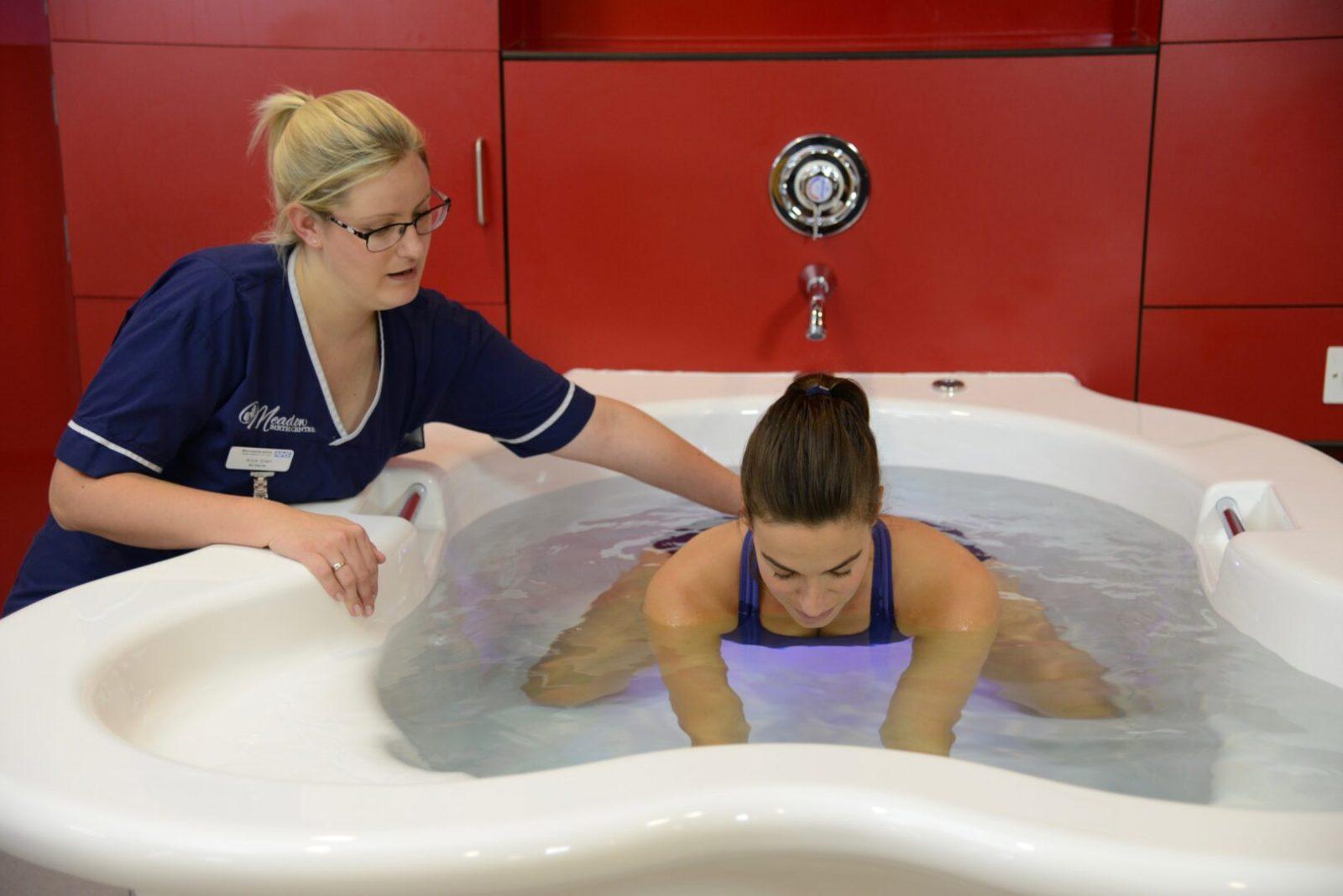 FREEDOM OF MOVEMENT
Women are fully supported in all positions and enjoy complete freedom of movement within the pool.
They are easily able to instinctively find their most comfortable positions.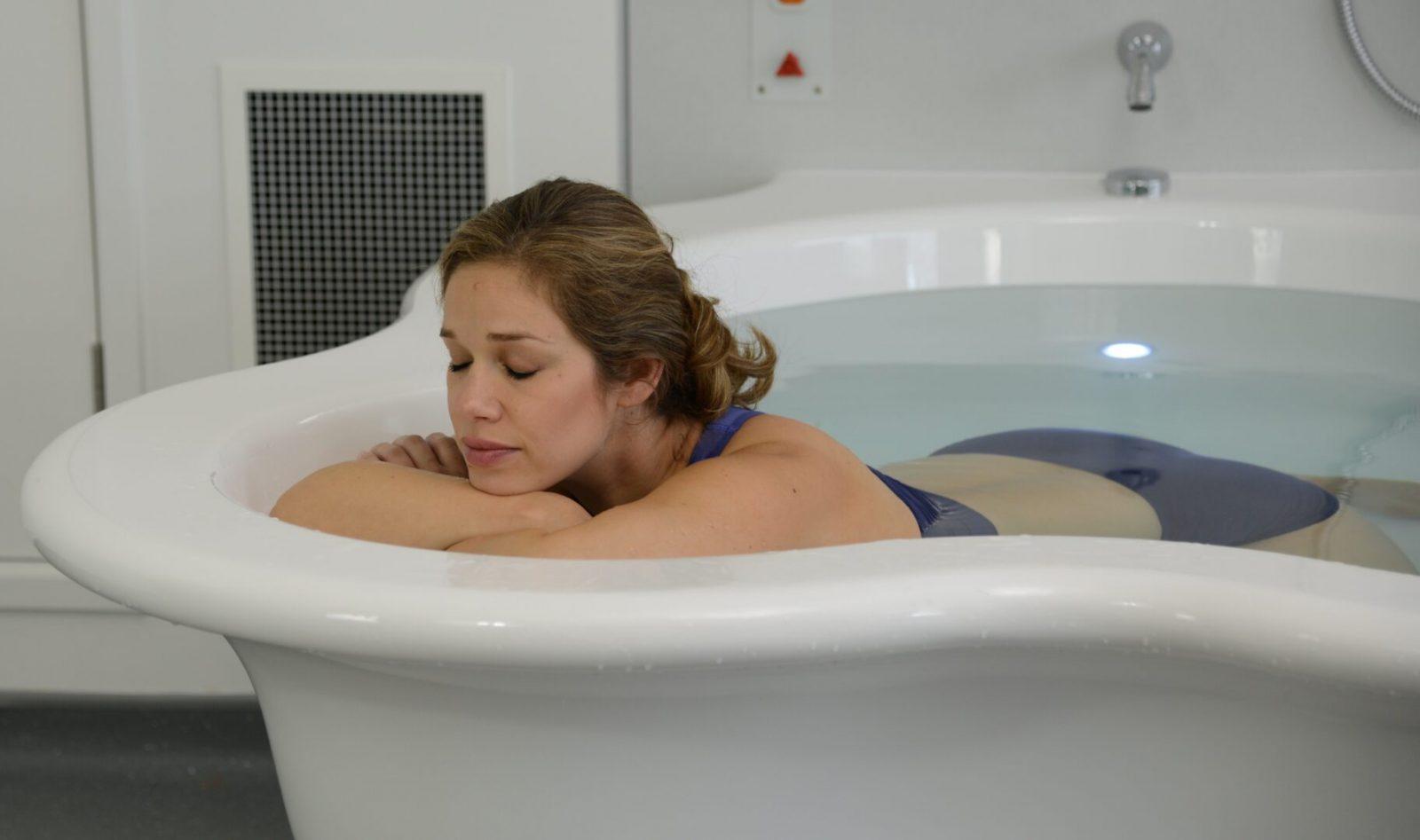 CURVACEOUS ERGONOMIC DESIGN
Midwives are safeguarded from risk of strain or injury by being able to sit closely by the side of the pool with their arms resting comfortably on top of the extra-wide rim .
The curved form of the pool allows the knees to be placed under the rim without having to splay the legs and suffer the associated ergonomic risks.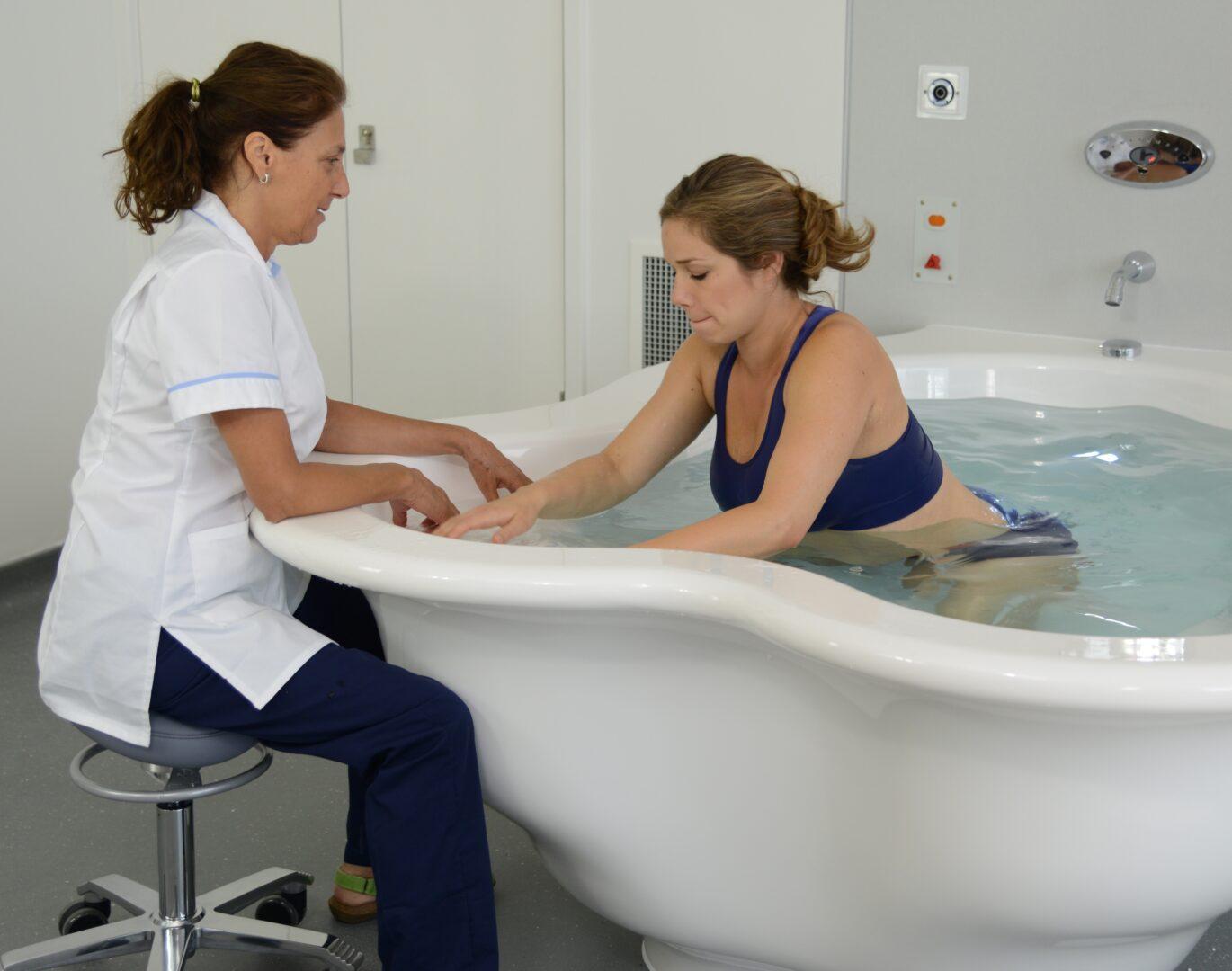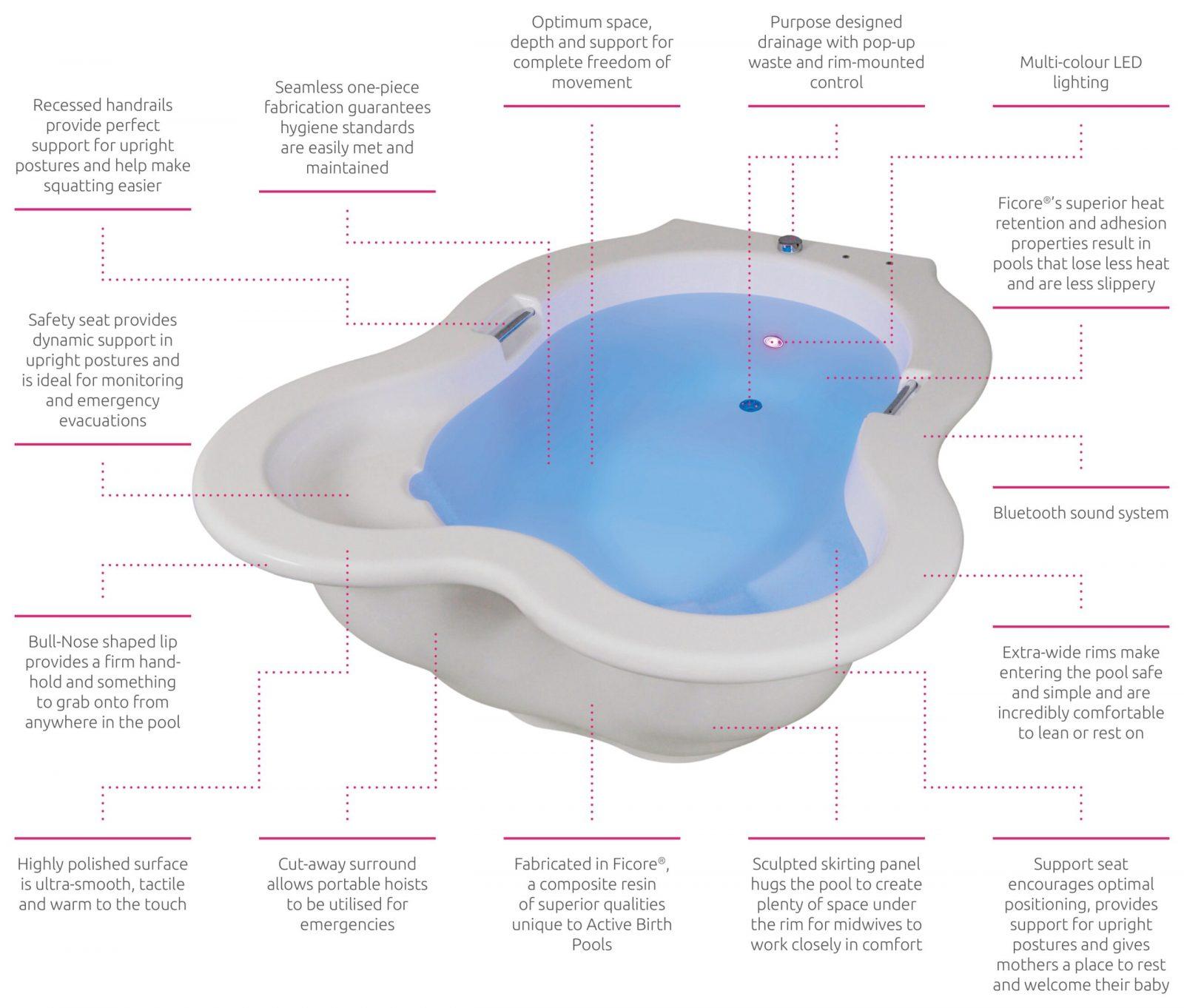 INTEGRATED SEATING
The rim level "safety seat" makes it easy for mothers to enter the pool, provides a comfortable perch for them to rest on and a practical means for monitoring and emergency evacuation.
The multi-functional "labour support seat" actively encourages the pelvis to open, provides support for upright postures and gives the mother a place to rest and welcome her baby.
UNDER WATER LED LIGHTING WITH COLOUR
Multi-colour LED lighting is available to help you personalise the colour of the water and make the pool look infinitely more inviting.
This feature helps to deliver the WOW factor for a fantastic looking birth room.
Optional integrated Bluetooth is also available for inclusion to the pool to allow music to be played through the walls of the pool.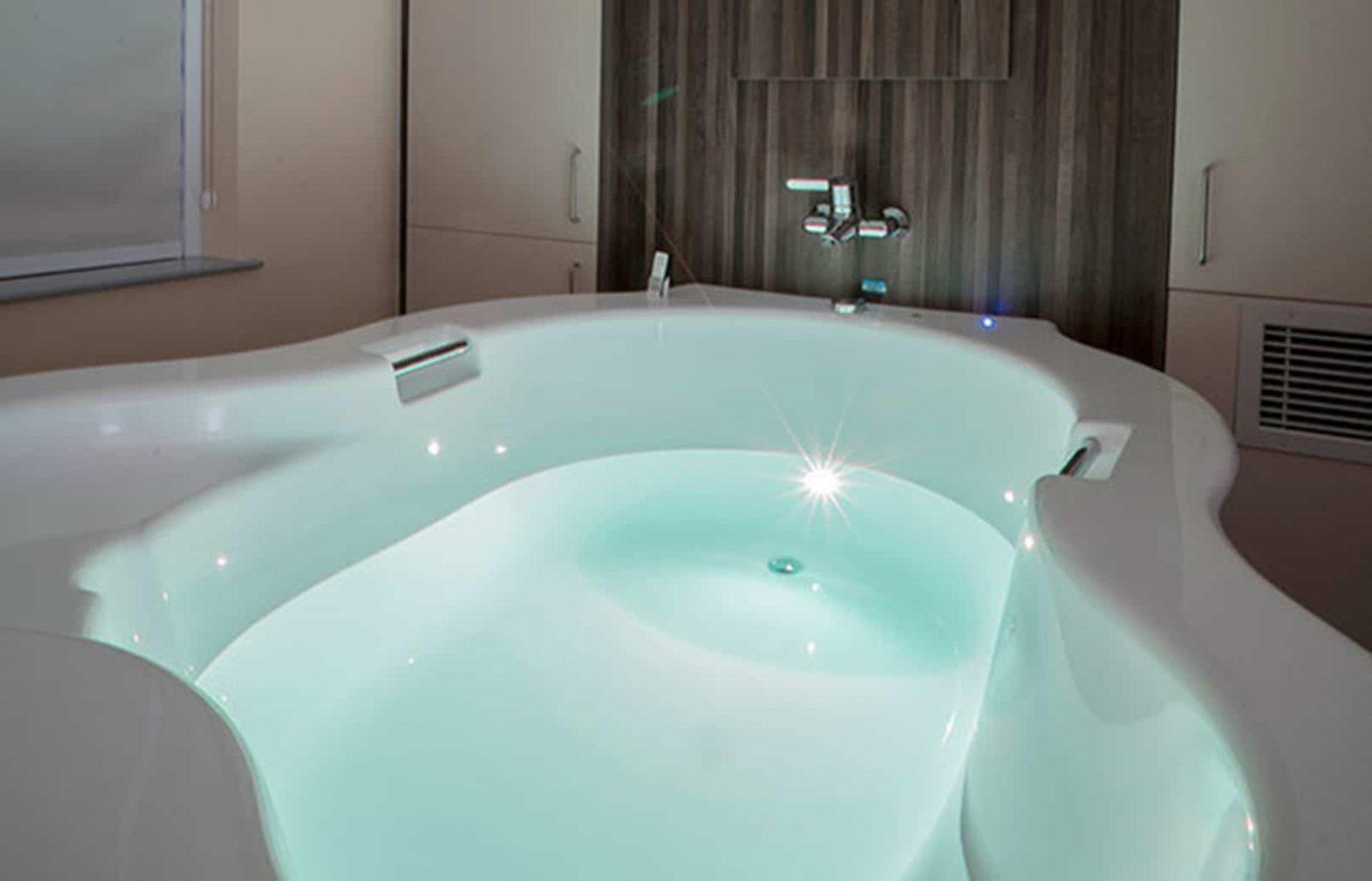 SUPERIOR MATERIALS – FICORE
The Active Birth Pool is manufactured from Ficore®, a proprietary material that is 5x stronger than fiberglass or acrylic.
This unique material is so resilient that we have the confidence to supply the Venus Birth Pool with a lifetime guarantee.
Ficore® also retains water temperature 7x longer than other materials to reduce the number of times that warm water needs to be added.  It is also tactile and comforting to the touch.
ACTIVE II BIRTH POOL
The Active II Birth Pool is slightly longer than the original Active pool to incorporate the new keyhole design. This allows the filling spout to be safely located & eliminates the possibility for the woman to hit her head if she reclines against the backrest.
The drain is also located at the bottom of the keyhole zone to locate drainage & filling in the same area. This enables the woman to move freely around the pool without having to be wary of the pop-up plug.