Utilizable for daily activities
Easy access of the attending personnel to the patient when beeing examined.
The height adjustment faciliates the work of the nurse because it enables a comfortable transfer of the patient from the chair to the bed.
Help when getting off
The hydraulic lift for tipping the seat and adjusting the armrests for arm support totally eliminates the physical exertion of staff necessary for manipulating the patient.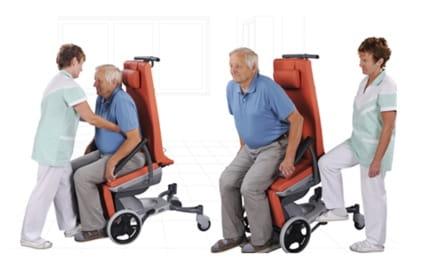 Outdoor application
A chair with big castors is more suitable for transport outdoors or on uneven surfaces.
Comfortable and easy adjustment of backrest by the patient also increases his/her self-reliance and independence.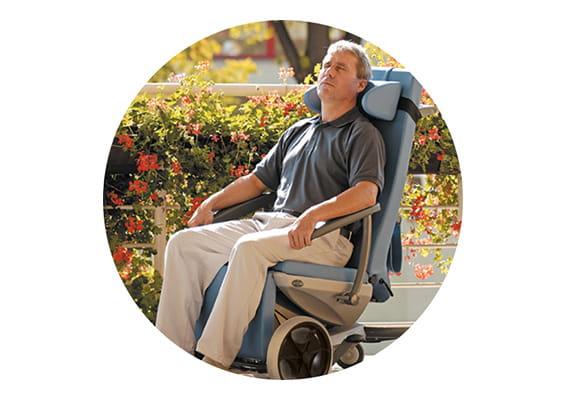 Technical parameters
| | |
| --- | --- |
| Total length in basic state | 910 mm |
| Total length when lying | 1610 mm |
| Total width | 685/705 mm** |
| Maximum lift (height adjustment) | 240 mm |
| Back rest adjustment angle | 12° to 70° |
| Foot rest adjustment angle | 11° to 87° |
| Arm rest adjustment angle | -25°, 0°, 25°, 90° |
| Maximum user weight | 150 kg |
** standard armrests / armrests for blood taking
Design
Attractive design bringing full-value moments
Positive impact on old people
Regard to functionality, attractivity and simplicity
Popularity with attending personnel
Prestige of the facility
Modern interior
Hygiene with no compromises
Removable seat part for easier maintainance
Easy and quick cleaning with common cleaning and desinfecting agents
Safety
Active safety elements: safety footboard, central brake.
Passive safety elements: armrest, table, big head rest, side supports.
No naked lever mechanism
No jam points
Robust materials