SUPPORT PATIENT RECOVERY
The low, safe position is comfortable when staying in or when entering or exiting the chair.
Pura offers multiple positions to improve the stay of the patient:
Trendelenburg
Cardiac chair
Fowler position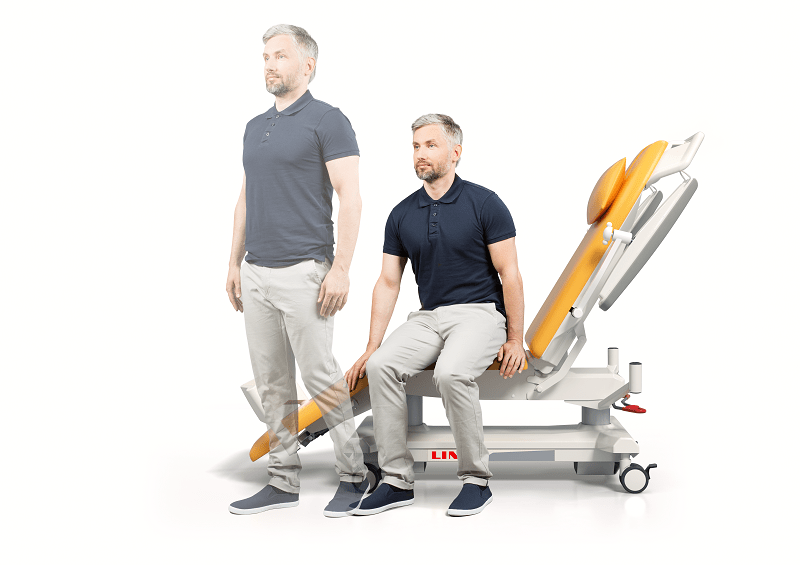 EASY PATIENT TRANSPORT
The state-of-the-art structure of the undercarriage fitted with wheel with a 150 cm diameter castor and a central brake is the best option for transporting patients in a chair.
Along with its well-designed details, such as the transport handle or anti-crash bumpers, it creates excellent conditions for driving in outpatient facilities and hospitals.
Pura can be equipped with 5th castor for better maneuvering.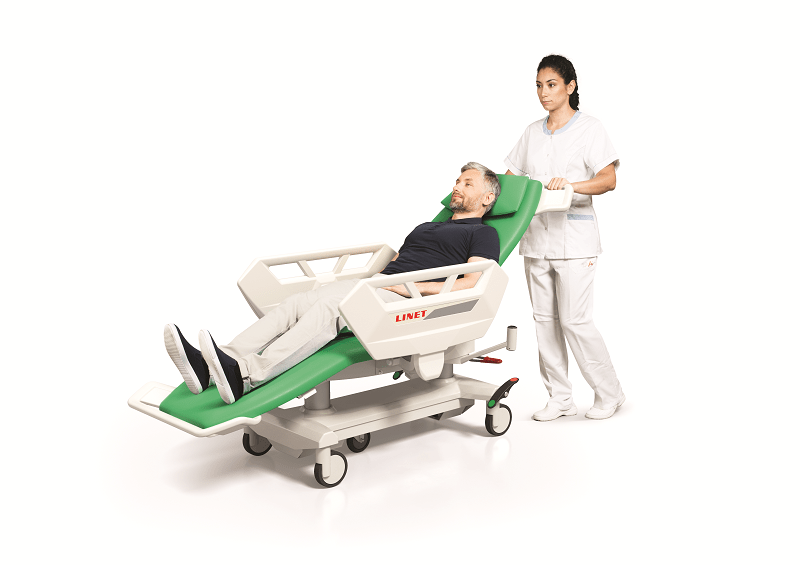 IMPROVE PATIENT EXPERIENCE
The comfort of the patient is ensured during long-term procedures by ergonomical frame and soft padding. It can also be equipped with an extra comfortable mattress.
Siderails are lowered smoothly and gently thanks to SoftDrop feature.
Pura further offers a variety of accessories to make patient experience even more comfortable:
– Removable table
– USB port
– Reading light
– Lockable box
– Storage box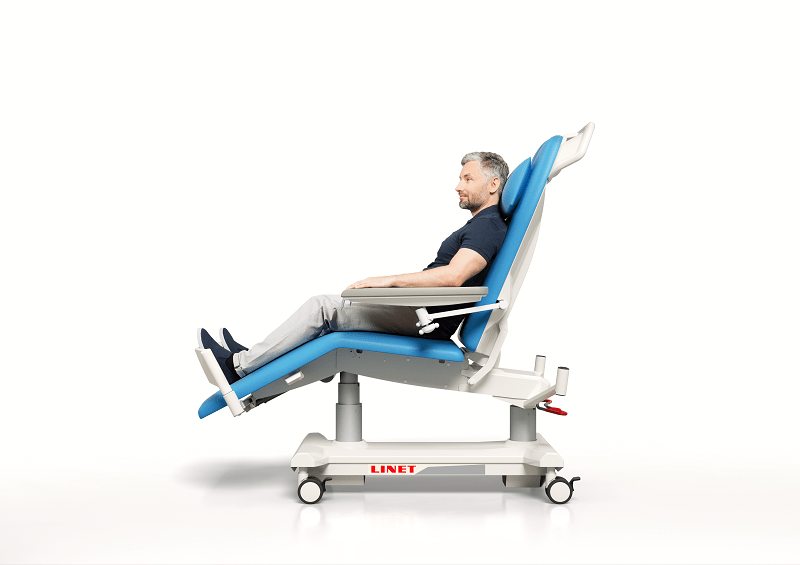 VARIABILITY IN POSITIONING
The quick and easy electric control adjusts the height of the chair for ergonomic work with the patient.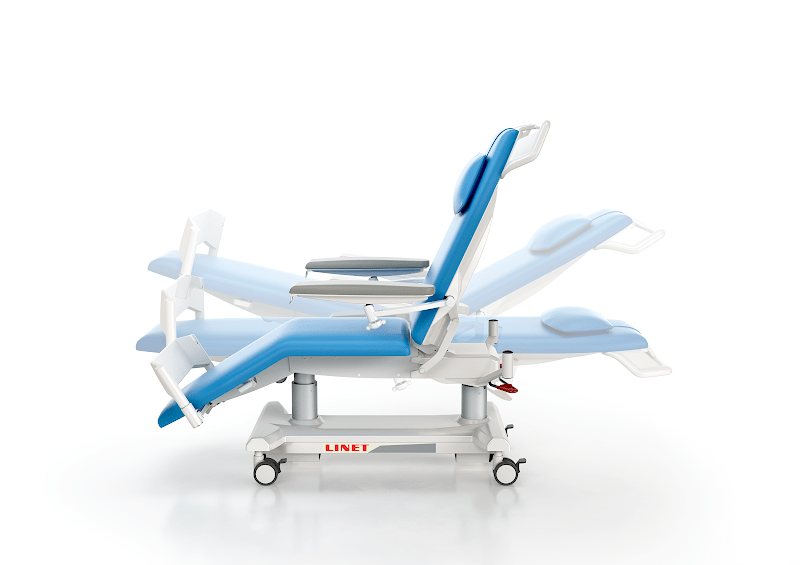 SIMPLIFY CAREGIVER PROCEDURES
Pura can be used in a variety of circumstances, from one day surgery to dialysis, making the processes leaner.
The controls are accessible and intuitive to use. The electrical handset has integrated TR and welcome positions. It also includes lock of the funtions to prevent accidental usage from the patient.
Pura can also be cleaned easily for improved infection control.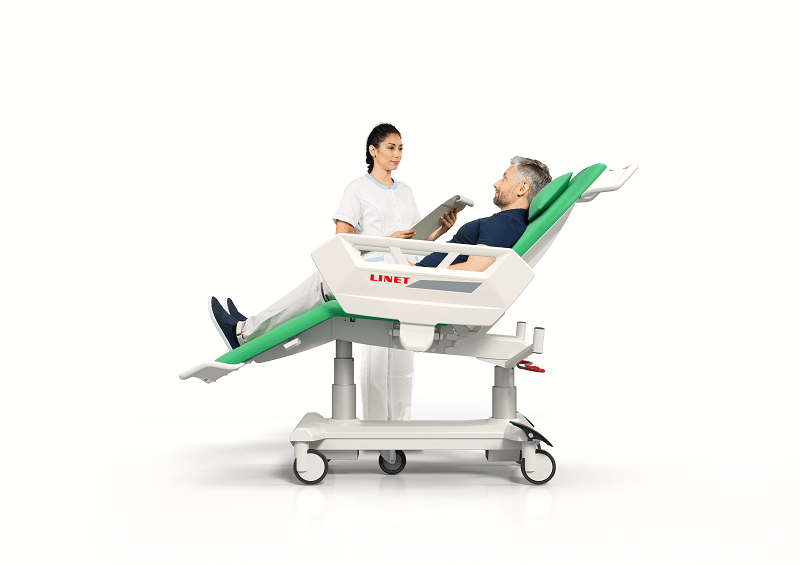 PURA CONFIGURATIONS
DAY SURGERY
Fully equipped chair for day surgery, recovery or diagnostic procedures.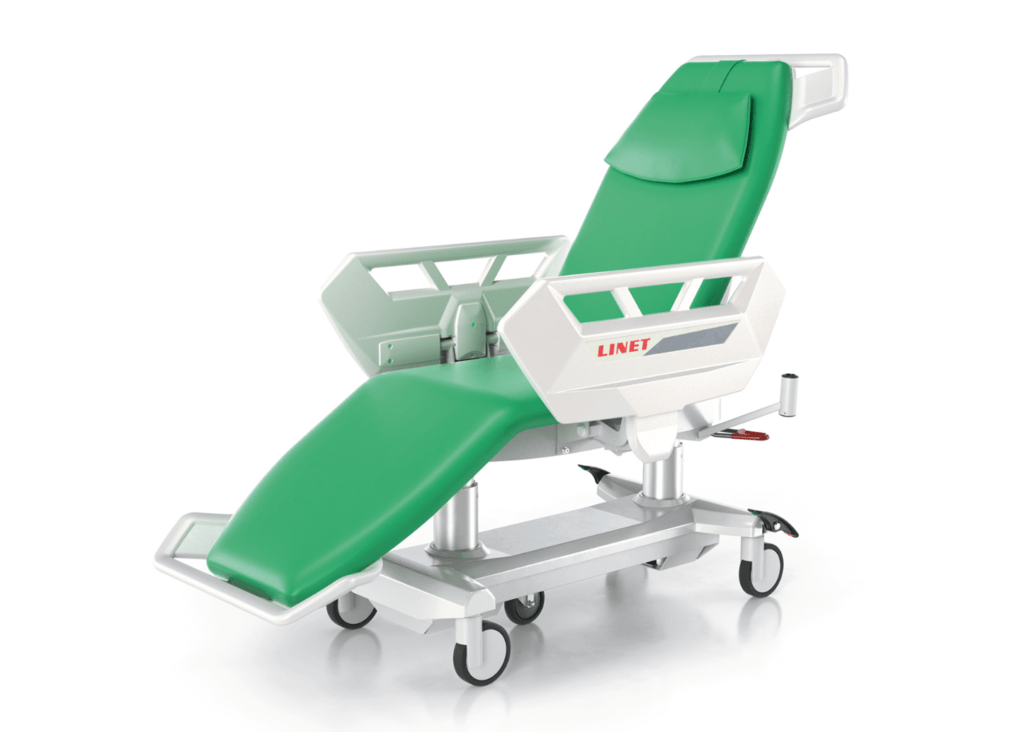 TREATMENT
Comfortable for dialysis, oncology treatment or blood donation.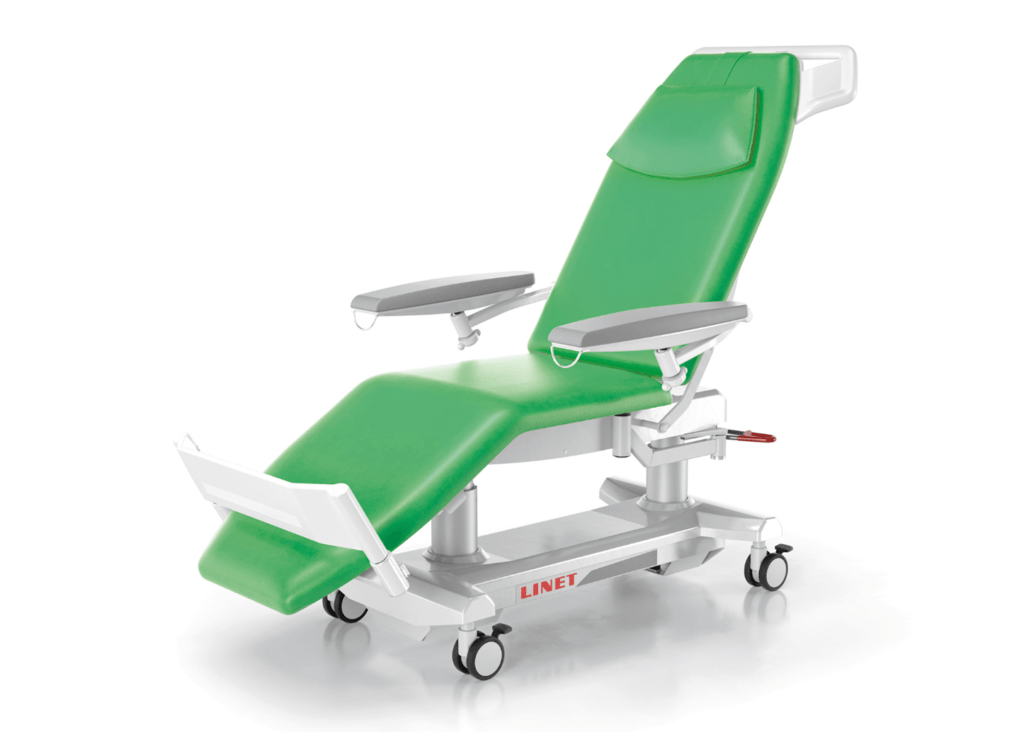 Technical parameters
| | |
| --- | --- |
| Lenght | 2 123 mm |
| Maximum patient weight | 190 kg |
| Width – seat section | 590 mm |
| Height (castors 100 mm) | 934 mm |
| Height (castors 150 mm) | 970 mm |
| Castor diameter / brake | 100 mm / individually braked |
| Castor diameter / brake | 150 mm / central brake |
| Adjustment angles back section | 70° |
| Adjustment angles – armrest vertical | + 42° / − 8.5° |
| Adjustment angles – armrest horizontal | 360° |
| Protection against water and dust | IPX4 |
| Device protection class | I |
| Classification of applied parts | B |
| Batteries back up voltage | 24 V / 1.2 Ah |
| Voltage – input | 100–240 V |
| Trendelenburg position (TR) | 12° |
| Safe Working load | |