Patient care can be revolutionized by adjusting processes of patient-handling, in order to treat patients efficiently and cost effective without any compromises for the patient and care givers. Finding ways to add additional procedures is a measurement of success. We understand this importance so we design our one day care products in such way that it improves the patient flow with advanced innovations.
Pura is fully equipped chair for day surgery, diagnostic procedures, comfortable for dialysis, oncology treatment or blood donation.
Low access height
Quick and easy electrical height adjustment allows ease of access plus patient positioning via a single button, convenient for both patients and clinical staff.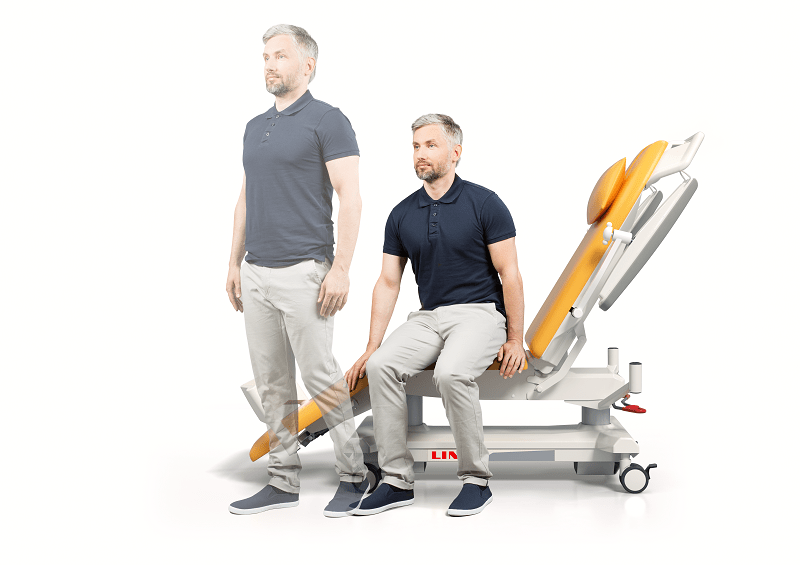 Easy transport
Transporting the patient is safe and is not physically strenuous.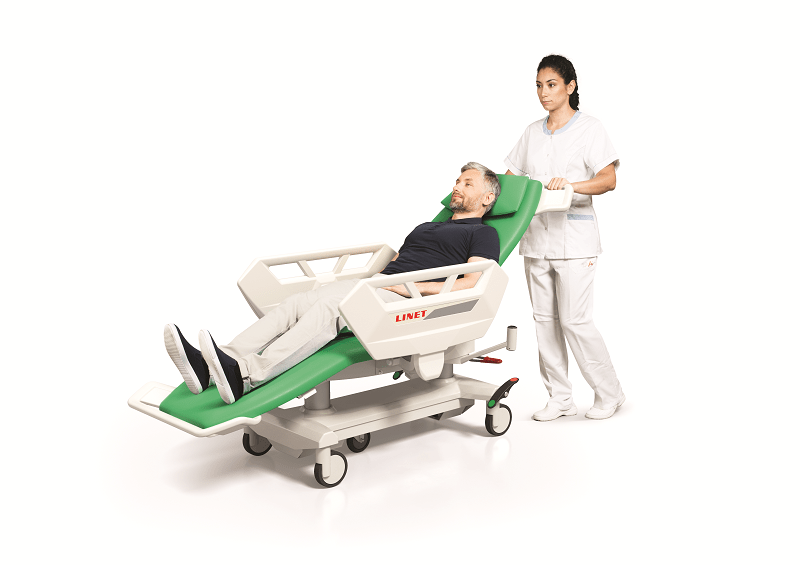 Pleasant stay
The comfort of the patient is ensured during long-term procedures by ergonomical frame and soft padding.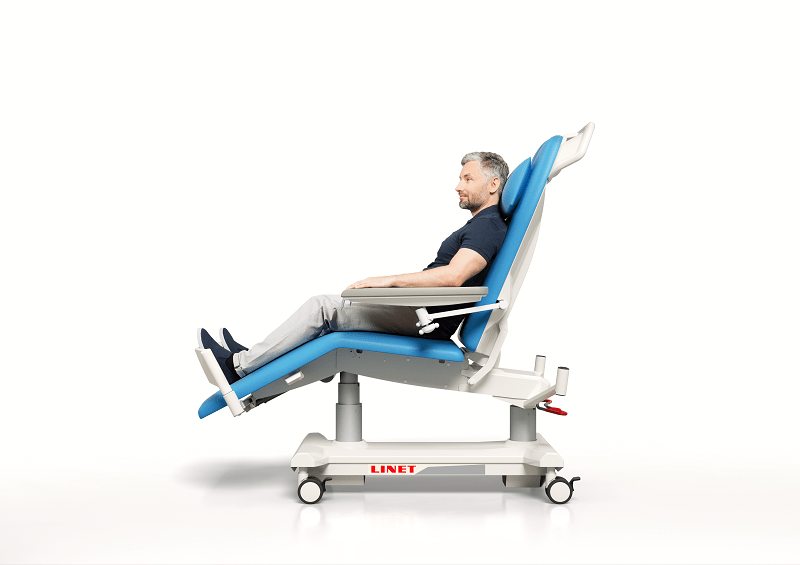 Variability in positioning
The quick and easy electric control adjusts the height of the chair for ergonomic work with the patient.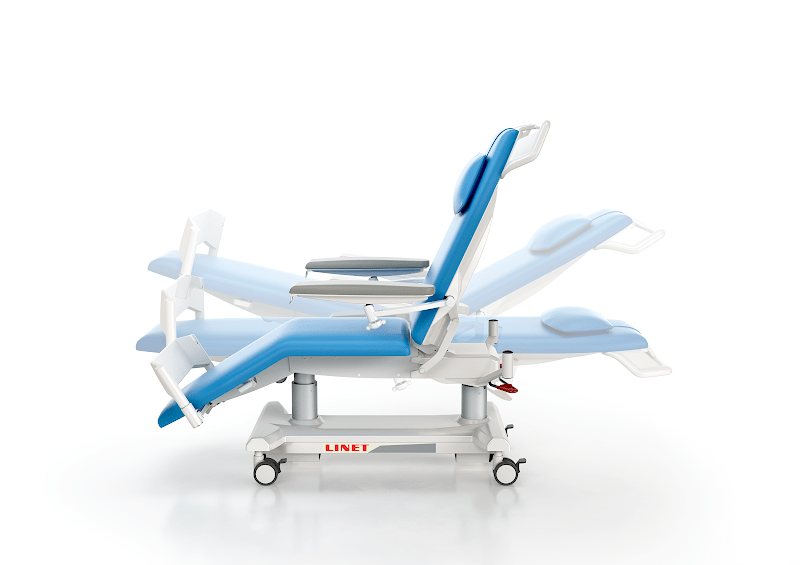 Focused on safety
Unique siderails design ensures patients safety while soft drop mechanism enables for smooth and easy lowering of siderails and easy access to the patient.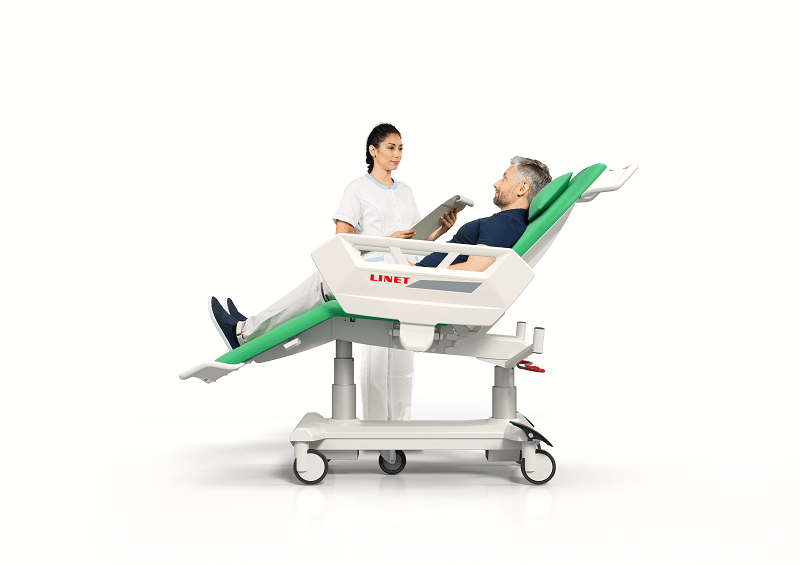 Portable handset
The user-friendly and ergonomic handset includes a pre-set TR, flat and welcome position. Also a safety lock of the functions, GO button and other intuitive features for the easy and quick adjustment of the chair.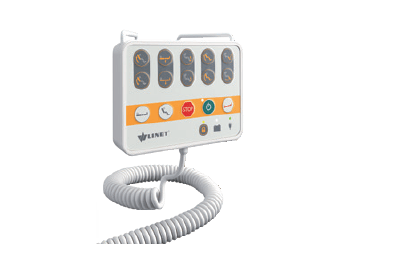 Technical parameters
| | | |
| --- | --- | --- |
|  Lenght |  Total rest area |  2 123 mm |
|  Width |  Seat section |  590 mm |
|  Height (castors 100 mm) |  MAX. – rest area to seat section |  934 mm |
|  Height (castors 150 mm) |  MAX. – rest area to seat section |  970 mm |
|  Castor |  Castor diameter / brake |  100 mm / individually braked |
| |  Castor diameter / brake |  150 mm / central brake |
|  Adjustment angles |  Back section |  70° |
| |  Armrest – vertical |  + 42° / − 8.5° |
| |  Armrest – horizontal |  360° |
|  Electrical parameters |  Protection against water and dust |  IPX4 |
| |  Device protection class |  I. |
| |  Classification of applied parts |  B |
| |  Batteries back up voltage |  24 V / 1.2 Ah |
| |  Voltage – input |  100–240 V |
|  Trendelenburg position (TR) | |  12° |
|  Safe Working load | |  205 kg |
|  Maximum patient weight | |  190 kg |
Focused on safety
Soft Drop technology
The siderails are equipped with Soft Drop technology for optimising and softening the movement. The smooth and quiet lowering of the siderails is comfortable, not only for the staff, but it also makes the patient's stay in the chair more pleasant.
Trendelenburg position
The anti-shock position, or the so-called Trendelenburg position, is used for short-term collapse and is one of the pre-set functions on the Pura chair
Mechanical CPR
A quick mechanism allows for the simple adjustment of optimal CPR conditions. The chair platform flattens to provide sturdy support for heart massage.
Ergonomical armrest
The Pura Treatment chair is equipped with comfortable armrests for a long-term stay during dialysis or oncology infusion therapy.
Hygiene with no compromise
Compact surfaces, seamless upholstery and a construction not exhibiting compound lever patterns make the cleaning of the whole chair PURA much faster. Joined seat and foot sections are covered with antibacterial and seamless upholstery. This solution allows for very simple hygiene. Compact surface of the underframe guarantees easy cleaning.