Product Properties
Light-weight and easy to clean with most commercially available disinfectants
Extremely robust and durable
Easy-care, washable material, compatible with all common disinfectants
Measuring mat rolls up for easy transport and space-saving storage
Fixed head piece and the sliding foot positioner make it simple to use
Scale with cm and inches
Mobile measuring mat for babies and toddlers
The seca 210 measuring mat is a simple, fast and convenient measuring solution for babies and toddlers. Thanks to the head positioner, the baby or toddler can easily be positioned and the height is measured in an instant by pushing against the foot positioner. The measuring mat is made of a particularly robust and durable and skin-friendly plastic.
Functions and Properties
Abrasion resistant dial
Heat resistant
Mobile use
Technical Data
Folded width  11.8 inch/300 mm
Unit  cm
Net weight  1.3 lbs/0.58 kg
Measuring range  10 – 99 cm
Product width  49.2 inch/1,250 mm
Product height  5.5 inch/140 mm
Product depth  11.8 inch/300 mm

Graduation measuring range 

5 mm
Folded depth  4.7 inch/120 mm

Folded height 

5.5 inch/140 mm
What is the correct way to measure a baby?
The exact measurement of a baby's length or a small child's height is important for early diagnosis of growth disorders. There are more than 450 types of growth challenges that must be detected early on. Furthermore, measurements provide essential information about the patient's health and nutritional status.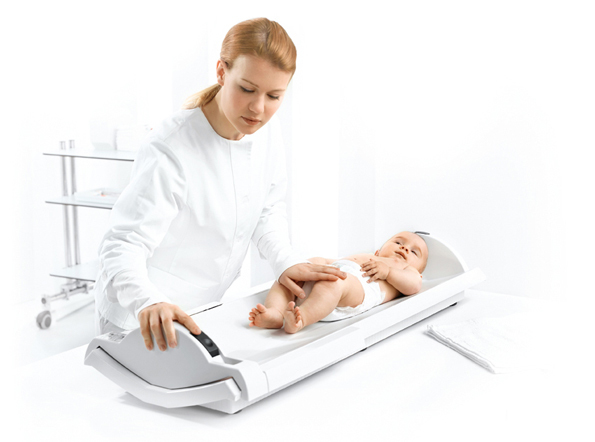 Children are measured while lying down until they are two years old.
It's best to have two individuals take the measurement.
The child should lie flat on his/her back.
The child's head should be placed in the center of the head positioner.
The child's legs should be fully extended.
The child's toes should be pointed up.
Lock the foot positioner into place.