NEONATAL PATIENT FALLS – THE ISSUE
The clinical paper "Assessment and Management of Babies Who Are Accidentally Dropped in Hospital" was released by the NHS in May 2019 (NHS/PSA/RE/2019/002).
Between 1st September 2017 and 31st August 2018, the NRLS identified a total of 250 reports of babies being accidentally dropped.
182 incidents (72.8%) occurred in obstetric/midwifery units, mostly as a result of "mothers accidentally dropping their baby or losing hold of their babies when drowsy or asleep".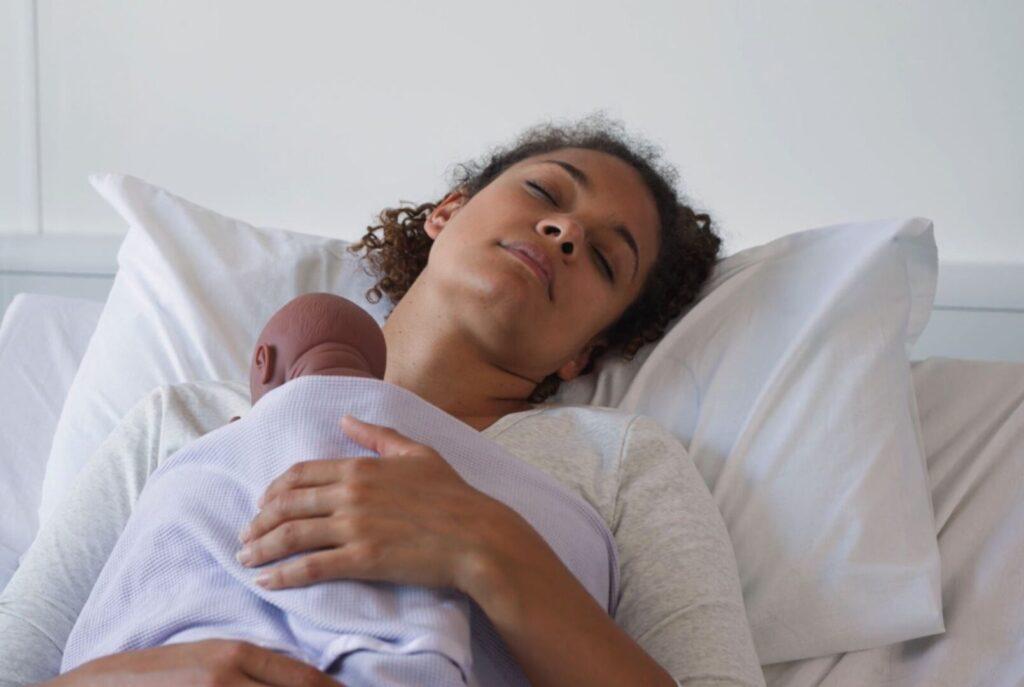 THE BENEFITS OF AN OVERBED COT
THE OVERBED COT SOLUTION
The Croyde Height Adjustable Overbed Cot glides under the bed, putting baby in front of Mum. This allows constant and easy access, facilitating more frequent skin-to skin contact, and promotes maternal bonding.
The mother can place the baby back in the cot without having to leave the bed. This lowers the risk of her falling asleep with the baby because the cot is too far away.
The minimal bulk of the cot and its ability to be stored over the bed reduce bedside clutter, and minimises the risk of falls or collisions with furniture.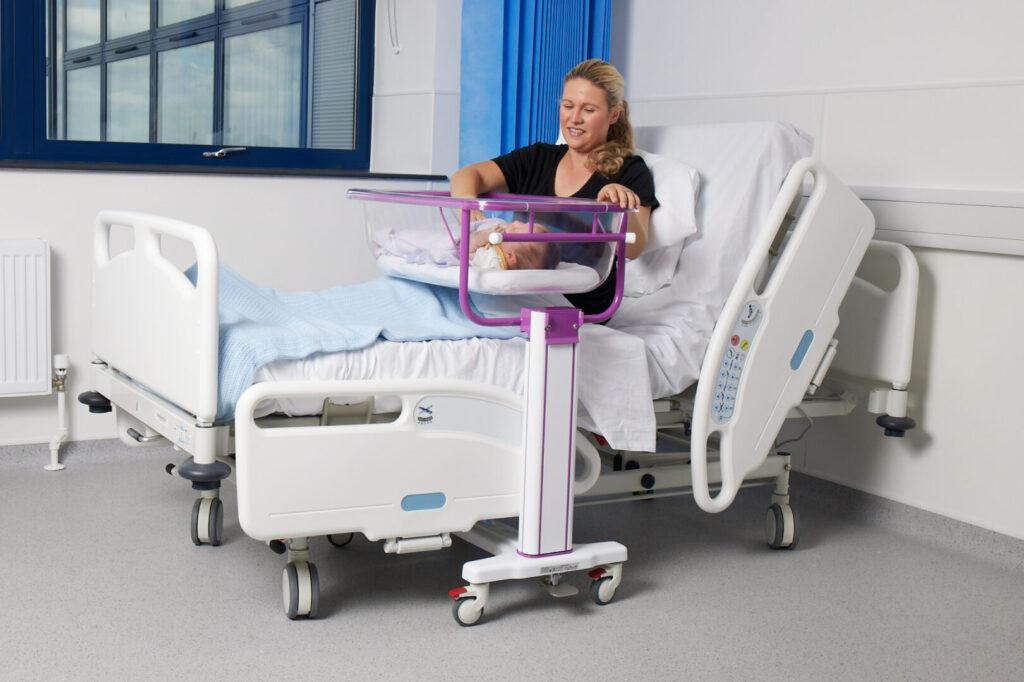 HEIGHT ADJUSTABLE
The Overbed cot can be raised and lowered in one simple smooth movement to achieve the desired height.
Eliminate bending or stooping and reduce musculoskeletal strain on the midwife's back and shoulders.
Make access easier for women who have undergone caesarean sections or complex births.
Deliver effective new-born examination and enhanced observations at the bedside by adjusting to the height of the clinician and reducing maternal separation.
Head elevation supports a new baby's delicate digestive system to keep milk down and aid wind to move up.
EASY TO MOVE AND CLEAN
Height adjustment makes cleaning the cot easy by moving it to the perfect working height for wiping.
With its column design and open space construction, all areas are easily accessible for cleaning.
It is compatible with hospital approved cleaning solutions and wipes and designed for use in high traffic wards.
It is also lightweight and easy to move whilst still being stable and durable.
CHOICE OF COLOUR
Choose from a wide range of colours to suit your room design.
Click the colours below to change the view or choose from our colour chart below.

TECHNICAL DETAILS
Castors: 75mm diameter
Internal Cot Height: 220mm
Internal Cot Width: 410mm
Internal Cot Length: 660mm
Height Adjustment Range: 970 to 1240mm
Basket Dimensions: 360 x 160 x 150mm