You can raise and lower the cot in one smooth movement, pressing the pedal with your foot and adjusting the height with your fingers:
Reduced bending or stooping, as the cot can be lowered or raised to the desired height, reducing musculoskeletal strain on a midwife's back and shoulders

Improved access for women with restricted movement or women who have undergone caesarean sections

Easier examination of newborns and enhanced bedside observations by adjusting the height to the clinician and reducing maternal separation

6° head elevation tilt option to support neonatal digestive tracts in keeping milk down and moving wind up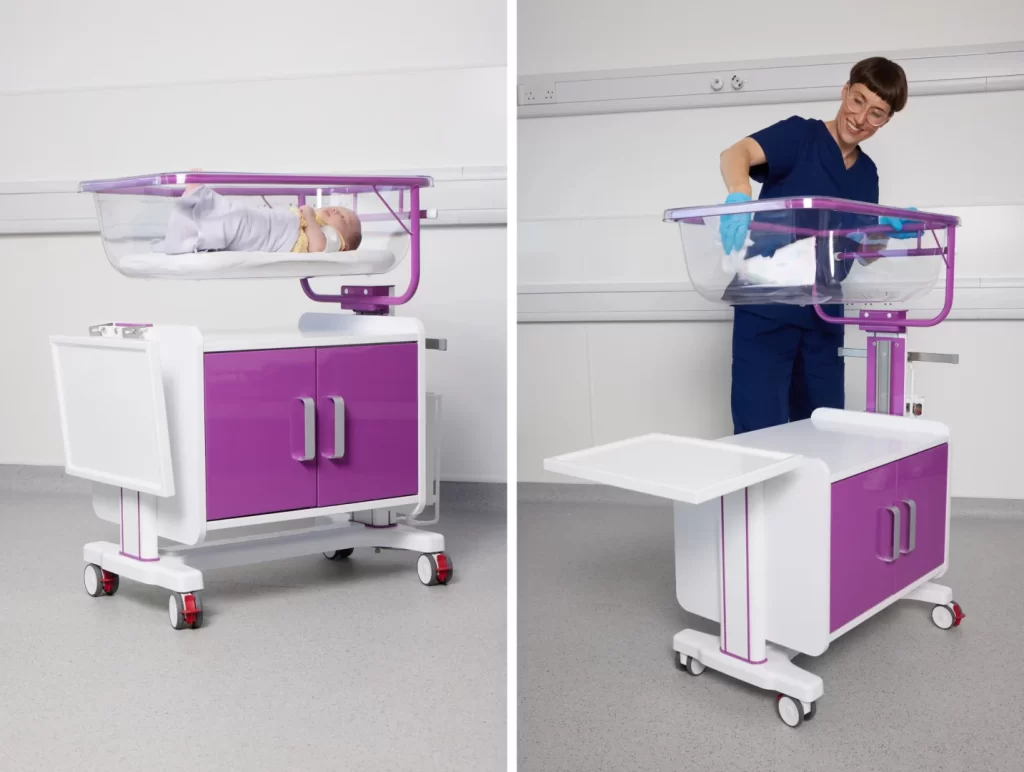 VIDEO GALLERY
DUAL SIDED CUPBOARD ACCESS
Double door access from both sides of the cot so it can be used in small rooms or tight spaces
The cot can be positioned for left or right-hand dominant carers when using the tilt function
The large cupboard provides storage for bulkier items and personal effects, to suit wards with limited storage space
Customisable shelves allow care equipment to be stored separately and neatly to suit the needs of the ward
Soft close doors prevent slamming or opening during transit.  Preventing accidental damage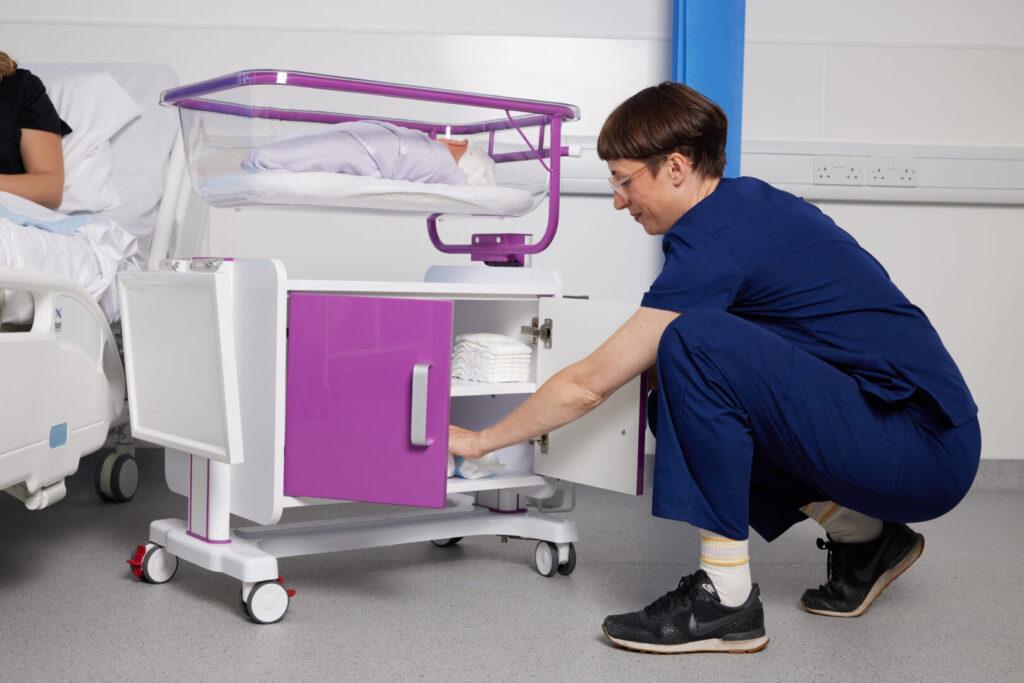 FOLDABLE SHELVES & OXYGEN CYLINDER HOLDER
The foldable shelf provides a stable area for drug and equipment preparation trays and can be folded away to save valuable space in tight spaces.
Shelves can be mounted on either side of the cot or on both sides if preferred.  Lipped edges contain any spillages if liquids are knocked over.
The optional Oxygen cylinder holder is mounted onto the medi-rail and adjusts in height with the crib.  It accommodates C/D size bottles and is a compact, stable storage solution.
Additional care equipment such as warming mattresses or Bilibeds can also be stored directly under the cot when not in use.
CHOICE OF COLOUR
Choose from a wide range of colours to suit your room design.
Click the link below to view our colour chart.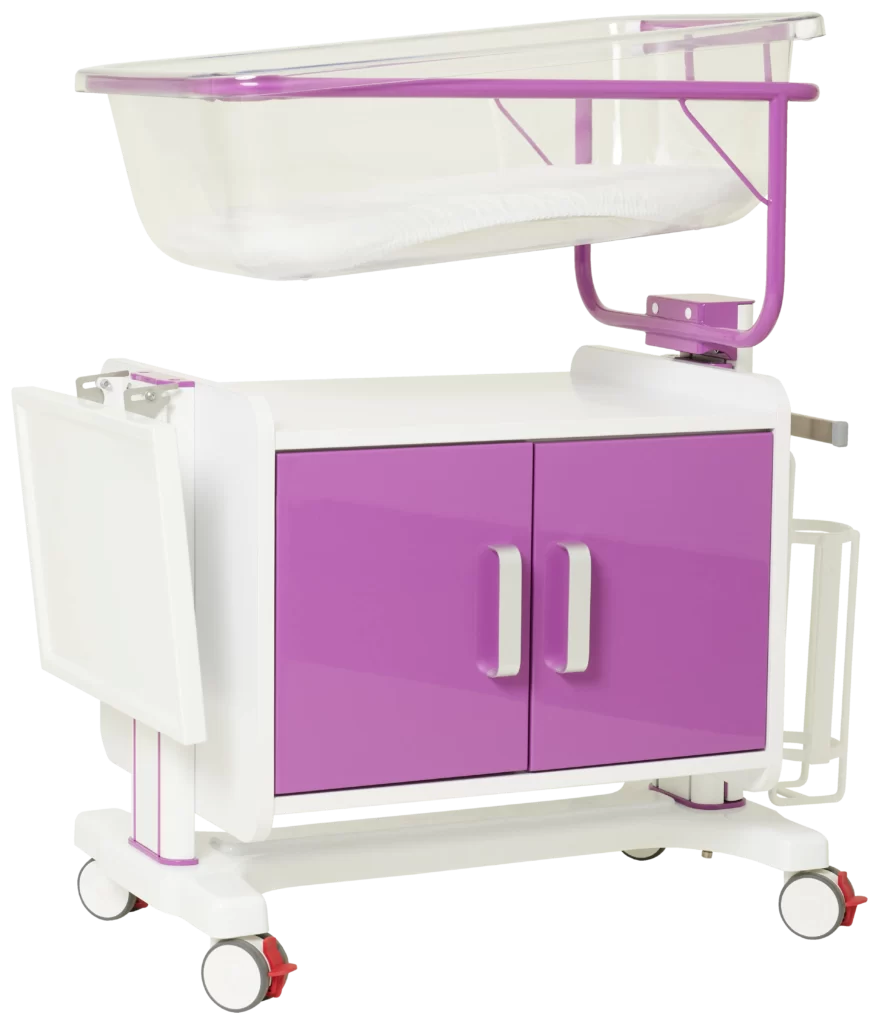 EASY TO MOVE AND CLEAN
Height adjustment makes cleaning the cot easy by moving it to the perfect working height for wiping.
With its column design and open space construction, all areas are easily accessible for cleaning.
It is compatible with hospital approved cleaning solutions and wipes and designed for use in high traffic wards.
It is also lightweight and easy to move whilst still being stable and durable.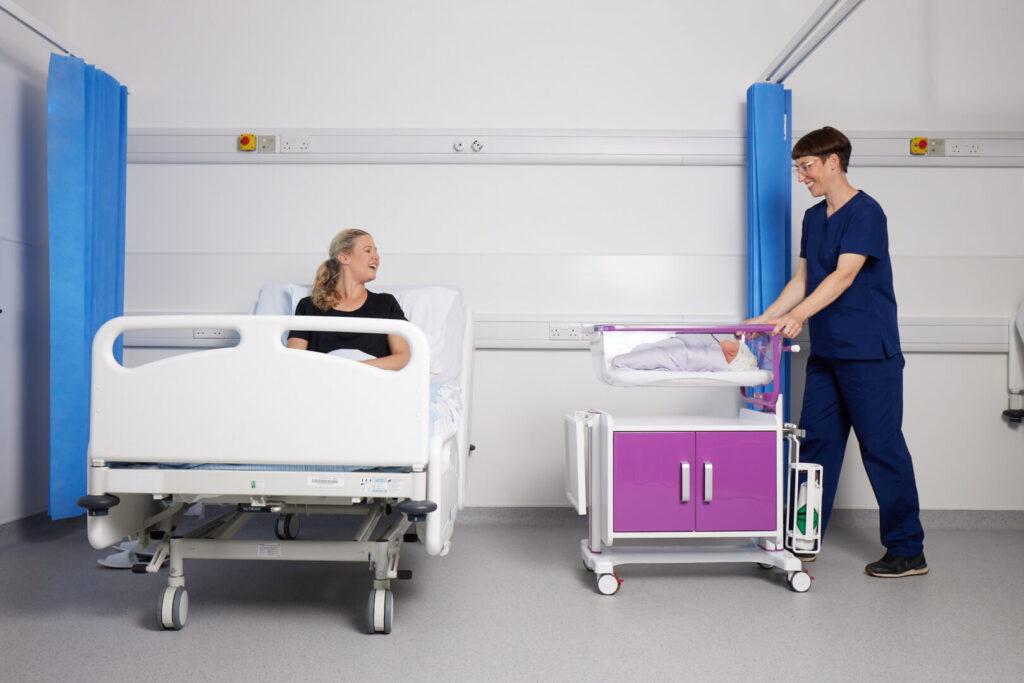 STANDARD FEATURES
Height adjustable for improved caregiver ergonomics
Large under-cot storage with dual-sided doors for ease of access
Bespoke configuration of cupboard storage with vertical and horizontal shelf options
Soft close doors to prevent accidental slamming or damage during transport
Choice of colours to match or contract room colour themes
6° head elevation tilt feature
Easy roll castors with individual braking for security when parked
Transparent cradle with mattress that can be removed for cleaning
ABS plastic cover on the base frame for ease of cleaning
Optional oxygen cylinder holder, ideal for NICUs
Optional foldable shelf (or shelves) with lipped edges
Optional plastic waste bin
SPECIFICATION
Castors: 75 mm diameter
Internal Cot Height: 220mm
Internal Cot Width: 410mm
Internal Cot Length: 660mm
Height Adjustment Range: 970 to 1260mm
Foldable Shelf: 450 x 320mm
Safe Working Load: 10kg