The Herida Norfolk™ Bariatric Cushion has been specifically designed to suit the differing weight and body shapes of bariatric patients. The cushion profile design has been developed to support the heavier patient group whilst optimizing pressure re-distribution.
The multi-stretch, vapour permeable, high frequency welded cover ensures compliance with strict infection control policies, whilst safeguarding the skin integrity of the patient through a reduction in shear & friction forces.
The Norfolk has been designed for those patients considered to be at 'High Risk' of pressure ulcer development.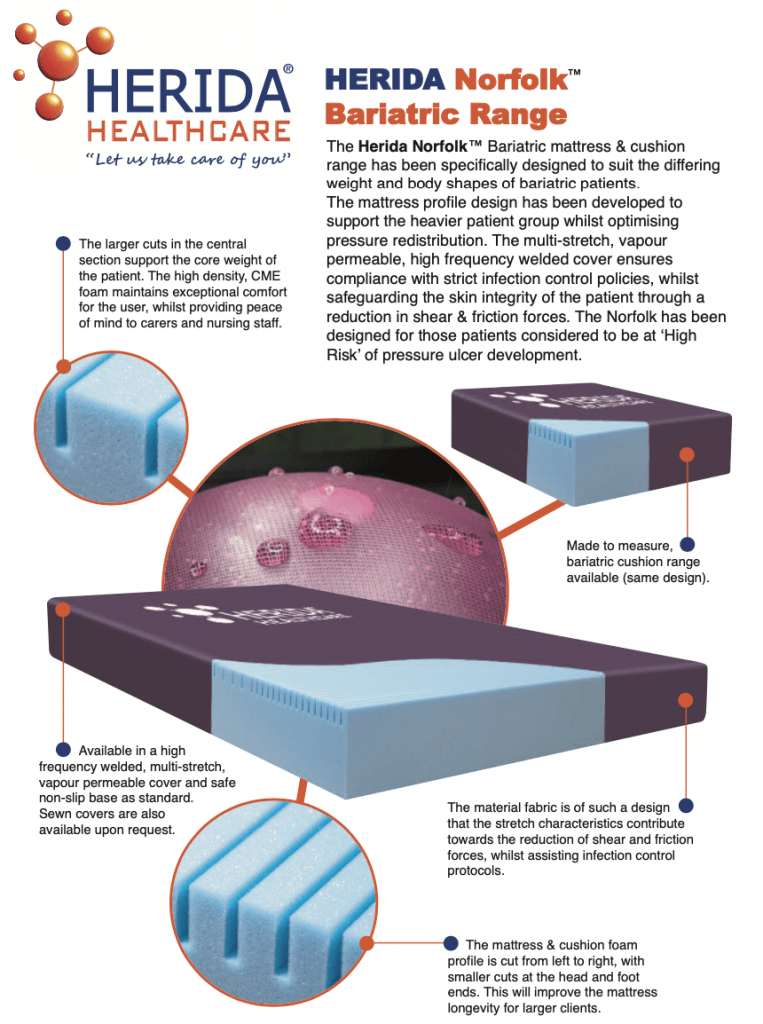 Features & Benefits
Multi-stretch, vapour permeable, high frequency welded cover with non-slip base (sewn cover also available)
Aids infection control, reduces shear & friction and improves patient safety
Covers can be easily cleaned and laundered up to 80C
Complies with strict infection control policies
Ensures total comfort is achieved, whilst delivering excellent pressure re-distibution
Fully complies with British Standards
Provides total confidence to user via exceptional quality and workmanship
Giving peace of mind to nursing staff and patients alike
Technical Information
High Risk
Very Severe
50 stones or 317 kgs
51cm x 51cm x 10cm Bespoke / Made to measure service available
3 kgs
Insert: 38 – 40kg / m³
Castellated Insert: 185 – 210N
205 – 235g (options available)
Fire Retardancy Standards
Exceeds minimum requirements of Crib 5 Composite testing (certification available upon request) BS7177
1 year