The Herida Cumbria™ is an 'At Risk' value offering from within the range. Made from a quality castellated combustion ether modified foam CME. Its large castellation's take into account the penetrative ischial tuberosity's (bones within the bottom) and the impact of the direct seating position, thus achieving total weight re-distribution.
Our sewn UK manufactured, multi stretch, vapour permeable and waterproof cover is provided as standard.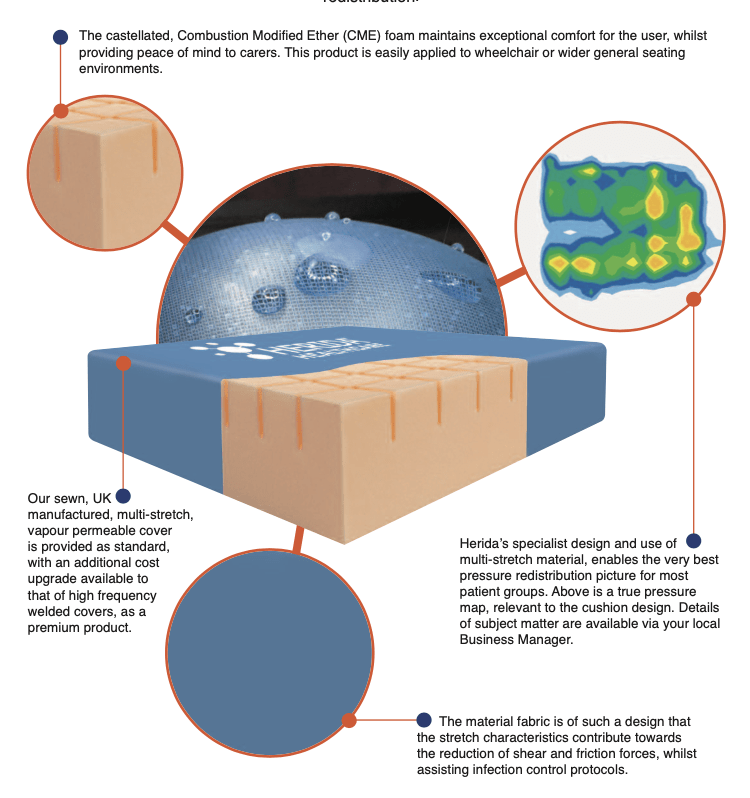 Features & Benefits
Multi-stretch, vapour permeable cover material
Aids infection control
Fully complies with British Standards
Castellated foam design combination
Ensures total comfort is achieved whilst delivering excellent pressure re-distribution
Compatible with most standard seating systems
Provides total confidence to user via exceptional quality and workmanship
Giving peace of mind to nursing staff and patients alike
Technical Information
At Risk
Severe & Very Severe available
17 – 20 stones (dependent on depth chosen. 4″=20 stones)
17 x 17 x 4 inches (43x43x10cm). Other sizes available.
<1 kg
34 – 36 kgs/m³
125 Newtons
100 – 150g
Fire Retardancy Standards
BS7176
Foam – 4 years Cover – 2 years