Product Properties
Weighing tray with high side walls for increased safety
Weighing and measuring in one step thanks to optional length measuring rod
Three-step damping for fast weighing
Large tray is suitable for weighing toddlers while sitting
Professional scale for users, feel-good scale for babies
A newborn finds protection and security in the arms of the mother and father. The design of the seca 374 baby scale was based on this. The ergonomic weighing tray with extra-high side walls offers the baby a safe boundary, as if it were being held. Adjustable damping filters out the movements, the HOLD function holds the weight value as soon as it settles. This allows the baby to quickly leave the scale again.
Technical Data
Unit kg/lbs

Net weight

7.9 lbs/3.6 kg

Product width

24.4 inch/620 mm
Product height 7.5 inch/190 mm

Product depth

14.1 inch/358 mm

Ports

seca 360° wireless

Power supply

Batteries/Optional power adapter

Graduation

5 g < 10 kg > 10 g/0.2 oz < 22 lbs > 0.5 oz

Capacity

20 kg/44 lbs

Batteries, quantity and type

6 X AA
Tray width 24.2 inch/615 mm

Tray height

5.1 inch/130 mm

Tray depth

10.8 inch/275 mm
Functions and Properties
Acoustic signals can be activated
Auto-HOLD
SEND / Auto-SEND
Automatic switch-off
BMIF
Adjustable damping
RESET
TARE
lbs/kg switch-over
Too much baby fat is unhealthy
In many developed countries, every tenth newborn weighs more than 9 lbs 15 oz and suffers from fetal macrosomia. This is a medical condition when a new born baby has disproportionally large body parts or organs which could potentially injure the baby during birth or increase their risk of becoming obese or developing Type 2 diabetes in the future. Babies with overweight mothers or mothers with gestational diabetes are more likely to develop fetal macrosomia because they receive too much glucose and produce too much insulin which results in the development of fatty tissue.
The baby's elevated insulin production causes a region of the brain responsible for feelings of fullness to not completely develop. Consequently, the individual's will face frequent hunger pangs throughout their life which increase their risk of diabetes and obesity. It's difficult to diagnose fetal macrosomia in the womb because conclusions about the fetal's weight cannot be made from an ultrasound image. To receive a more reliable diagnosis besides regular weight measurements, the mother's girth and symphysis fundal height are essential.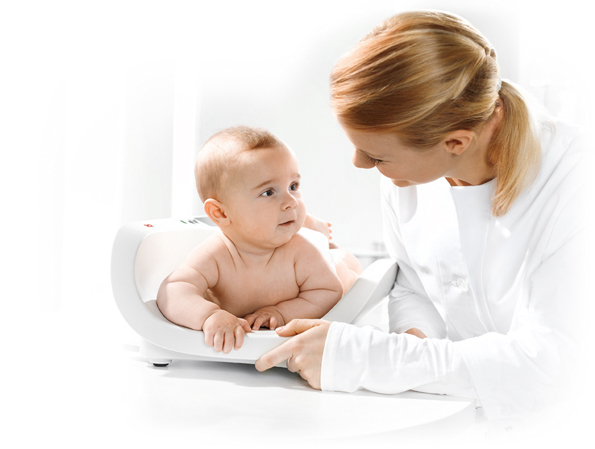 Today in many western industrialized countries, every tenth newborn suffers from fetal macrosomia.
Indications of fetal macrosomia include a mother's girth of more than 43 inches and a symphysis fundal height of more than 15 3/4 inches in the 40th week of pregnancy.
It's critical to have a healthy start in life
Why is a baby's weight so significant? The physical growth of infants has long been recognized as an important indicator of health and wellness. If weight gain is too fast research shows babies are at risk of childhood obesity and associated diseases. If weight gain is too slow then the baby risks developing physical or psychological problems. A precise weight measurement is important and the reason why doctors and midwives across the globe recommend seca scales.