Product Properties
Robust, extra large construction for precise measuring
Ensures correct lying position due to trough-shaped measuring surface
Measurement scale printed along top side for easy reading
Foot positioner cannot be moved by the infant thanks to the locking button
Results with millimeter precision thanks to tray-shaped lying surface
The seca 416 enables the perfect length measurement of babies and toddlers. Thanks to the V-shape and the head positioner, the infant is automatically in the correct measuring position. The foot positioner runs on two side rails and cannot be moved by the baby thanks to the brake button. Thus, after the measurement, the baby can first be cared for and then the measurement result can be read with millimeter precision.
Technical Data
Unit  cm
Net weight  8.4 lbs/3.8 kg
Measuring range  33 – 100 cm
Product width   43.4 inch/1,103 mm
Product height  6.7 inch/169 mm
Product depth  15.8 inch/402 mm
Graduation measuring range  1 mm
Functions and Properties
Abrasion resistant dial
Fine, high-contrast printed dial
What is the correct way to measure a baby?
The exact measurement of a baby's length or a small child's height is important for early diagnosis of growth disorders. There are more than 450 types of growth challenges that must be detected early on. Furthermore, measurements provide essential information about the patient's health and nutritional status.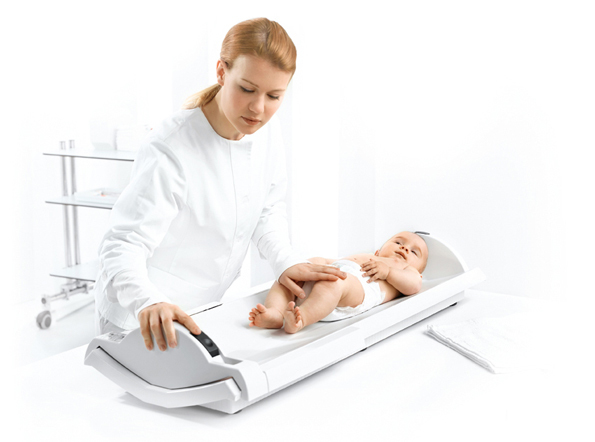 Children are measured while lying down until they are two years old.
It's best to have two individuals take the measurement.
The child should lie flat on his/her back.
The child's head should be placed in the center of the head positioner.
The child's legs should be fully extended.
The child's toes should be pointed up.
Lock the foot positioner into place.