The Herida Somerset Eco™ pressure reducing mattress is a sister product to our clinically proven Herida SomersetTM mattress.
This product has been developed from a comfortable, visco elastic foam and of a Combustion Modified Ether (CME) foam base. The design was created to achieve a cost-effective solution for a high risk mattress.
The temperature sensitive memory of the surface allows initial patient immersion, whilst the high density CME base, allows pelvic stability and reduces the effects of "bottoming".
Herida's specialist design and use of multi-stretch material, enables the very best pressure redistribution picture for most patient groups and our welded, UK manufactured, multi-stretch, vapour permeable cover is provided as standard, with an additional cost upgrade available to that of high frequency welded covers, as a premium product.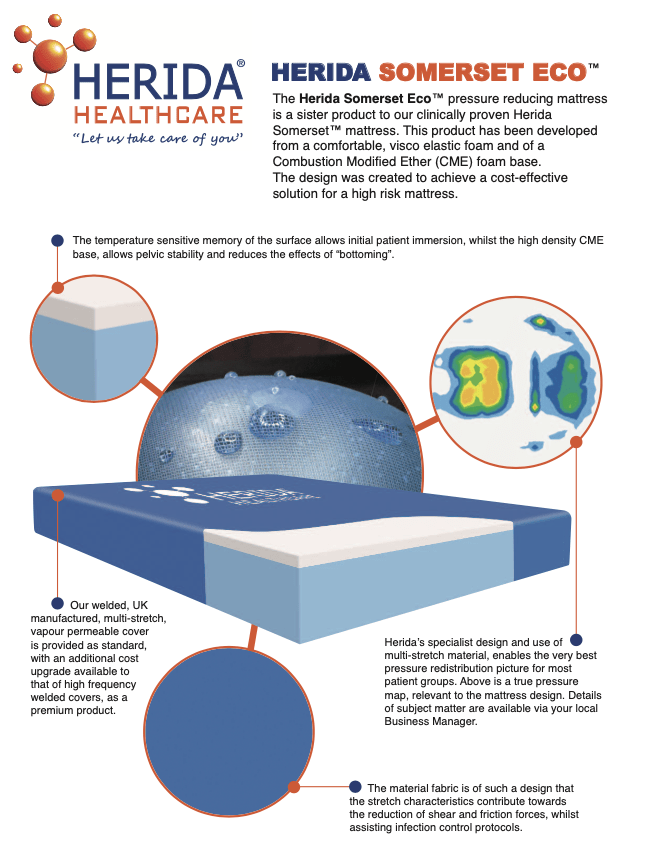 Features & Benefits
Multi-stretch, vapour permeable cover material
Aids infection control
Fully High Frequency welded product
Prevents fluid ingress
Fire retardant Visco Elastic and CME foam combination
Fully complies with British Standards
Ensures total comfort is achieved, whilst delivering excellent pressure redistribution
Provides total confidence to user via exceptional quality and workmanship
Help's manage budget
Technical Information
High Risk
Severe (Very severe available as a premium)
39 stone or 248 kgs
198cm x 88cm x 15cm (suitable for most hospital / homecare beds, although other sizes are available upon request)
<13 kgs
Visco Elastic Foam Surface: 50kgs / m3 CME base: 38 /m3
Visco Elastic Foam (Soft) CME base 200 N
210 g
Fire Retardancy Standards
Exceeds minimum requirements of Crib 5 Composite testing (certification available upon request) BS7177
2 year