Patient Skin Protection
Intermittent Pressure Reduction
Due to the alternating 2-cell system, Air2Care reduces pressure and helps to minimise sustained pressure peaks to the patient's body.
Localised Pressure Offloading
The individual cell construction uses self-sealing valves that allow the cells to be individually deflated.
Minimized Risk of Bottoming Out While Sitting
The Single Point Fowler Boost feature enables automatic detection of the raised backrest position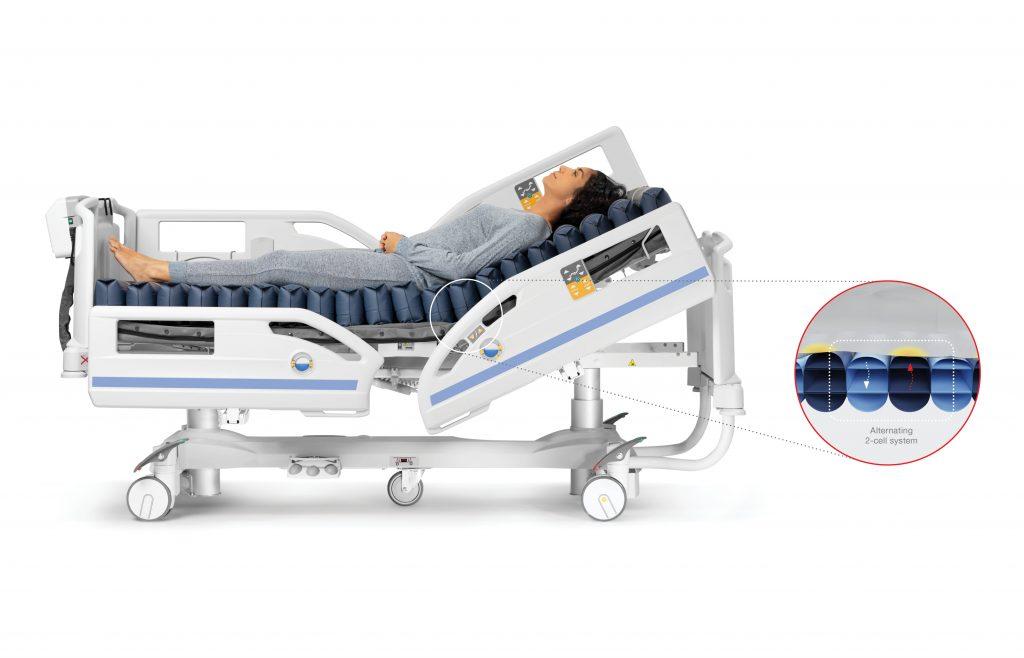 Patient Safety and Comfort
The wide choice of cycle times allows caregivers to select the right balance of intermittent pressure reduction and patient comfort.
Cycle Time Options of 10/15/20/25 Minutes
Choice of appropriate cycle time based on the patient's condition and individual preference.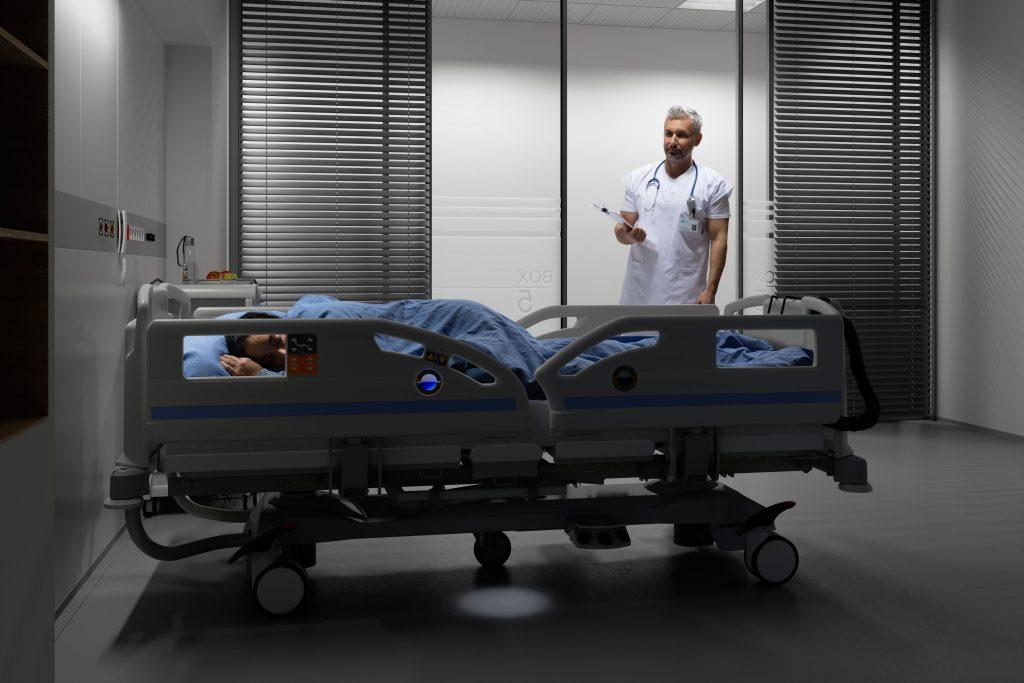 Simplicity for Caregivers
Effective technology does not have to mean complicated setup and control. The Air2Care mattresses are easy to operate and feature the Easy Smart function.
Automatic Pressure Setting with the Easy Smart System*
The mattress will automatically and continuously adjust to the patient's individual size, weight and position.
* Easy Smart will not be available in France, Germany and in the UK until the end of 2022.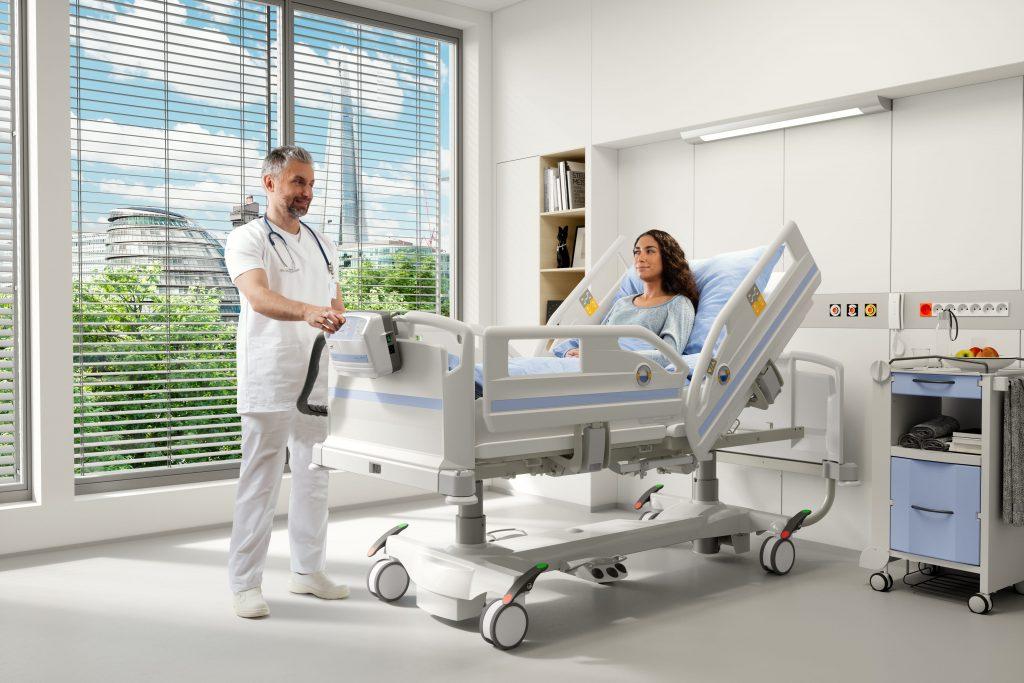 Support for Hospital Operations
Self-sealing valves help maintain pressure so the mattress stays inflated even if a cell is removed for cleaning or repair.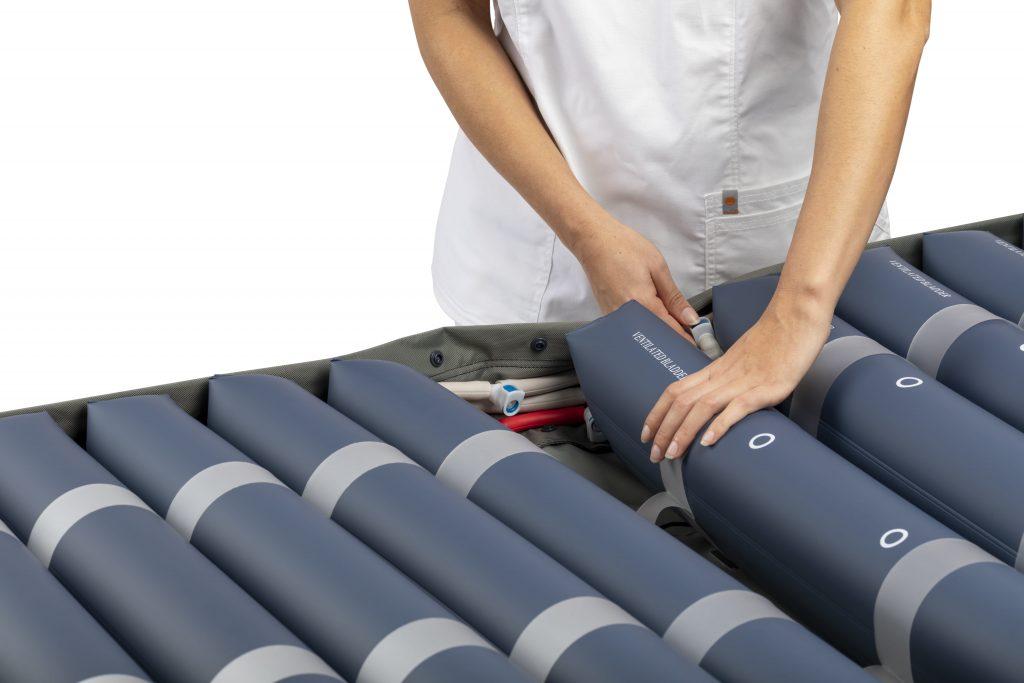 Technical Parameters
Air2Care 5
12.5 cm 2-Cell Overlay
| | |
| --- | --- |
| SWL |  140 kg |
| Sizes |  86 × 200 cm |
| Modes |  Alternate, Max, Constant Low Pressure |
| Cycle Time |  10, 15, 20, 25 min |
| Cells |  Self closing valves |
| Top Cover |  PU coated, breathable, bi-elastic |
| Base Cover |  PVC Nylon |
Air2Care 6
15 cm 2-Cell Air on Air Mattress
| | |
| --- | --- |
| SWL |  160 kg |
| Sizes |  86 cm × 200 cm, 90 cm × 200 cm, 86 cm × 210cm, 90 cm × 210 cm |
| Modes |  Alternate, Max, Constant Low Pressure |
| Cycle Time |  10, 15, 20, 25 min |
| Cells |  Cell on Cell Construction, Self closing valves |
| Top Cover |  PU coated, breathable, bi-elastic |
| Base Cover |  PVC Nylon |
Air2Care 8
20 cm 2-Cell Air on Air Mattress
| | |
| --- | --- |
| SWL |  180 kg / 250 kg |
| Sizes |  86 cm × 200 cm,100 × 200 cm |
| Modes |  Alternate, Max, Constant Low Pressure |
| Cycle Time |  10, 15, 20, 25 min |
| Cells |  Cell on Cell Construction, Self closing valves |
| Top Cover |  PU coated, breathable, bi-elastic |
| Base Cover |  PVC Nylon |