Herida Healthcare have worked with key organisations and partners across the globe, in order to develop the very latest hybrid mattress technology – Herida Moray – Combo™. Designed, manufactured and sold by Herida Healthcare (Manufacturing) Limited – this amazing new product is designed with specific consideration towards heel damage and comfort for users at the heart of it's capabilities.
The usual benefits of a "hybrid" are naturally evident, providing a speedy delivery from a very high risk static mattress to that of a dynamic in a matter of seconds. As evidence suggests that heel damage can often be exacerbated with the use of true alternating system.
Herida has chosen to uniquely combine a static "anti shear wave management" device. When bed profiling occurs, even when adopting the Fowler position, heel damage can still occur. This unique patent pending design provides an innovative solution for Health care professionals, whilst coupling true comfort for patients.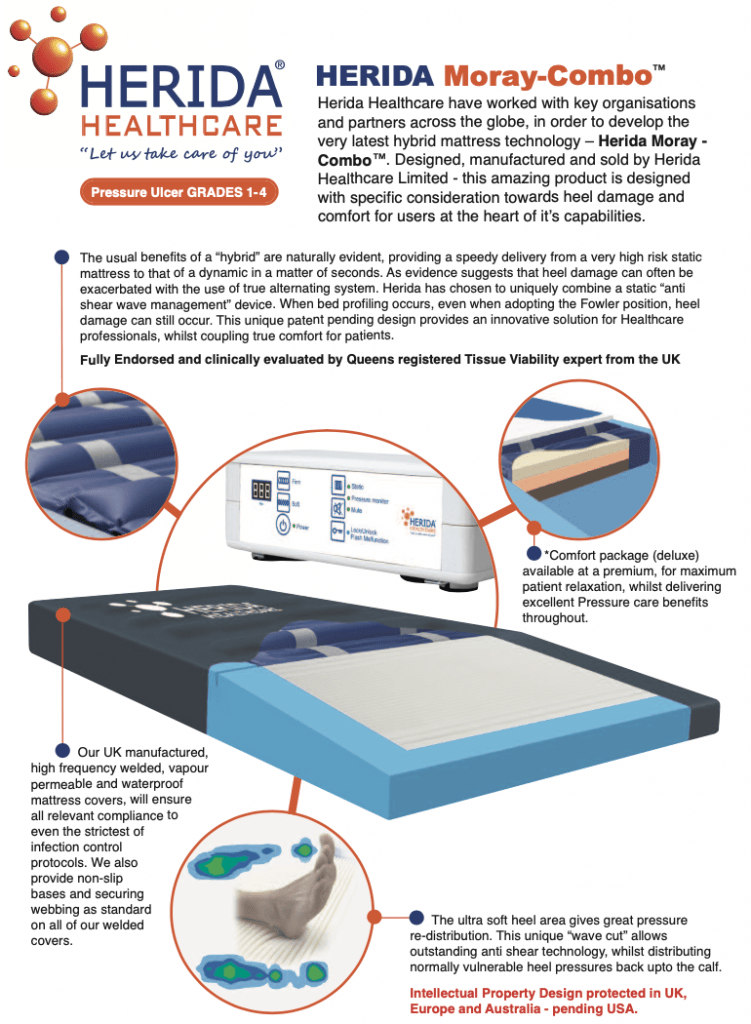 FEATURES & BENEFITS
Fully Welded, Multi stretch- vapour permeable fabric
Allows high moisture vapour transfer rate (MVTR), maximising airflow to patient skin surface. This keeps skin dry and reduces susceptibility to tissue damage. Hospital grade polyurethane (PU) fabric coating, designed for resistance to regular cleaning.
Leading Design / Safer Heel Solution
The clinically proven lower leg section, redistributes pressure from the heel to the upper leg (calve). This design utilises a greater surface area (Pressure=Force/Area), thus creating minimal heel to surface contact.
CME Foam surround & base 
Maintains pelvic stability for transfer and aids moving and handling processes.
High Quality Foam Filled Cell Technology
Foam filled, alternating cells that automatically inflate to a comfort level in line with the very best pressure relieving surfaces.
Active Therapy Mode (WITH PUMP)
A digital pump can also be fitted to the mattress, which in turn provides dynamic or alternating pressure therapy. This mode is used to upgrade therapy from that of a very high risk static mattress.
Comfort Mode Selection 
The digital pump can be adjusted in smaller increments of 5kg, unlike most systems. The pump is designed to offer ultra-low-pressure delivery, for light weight, frail individuals, including Paediatric patients.
Comfort Mode
Our unit delivers from 10mmgh pressure up to a maximum of 52mmgh for heavy users and as such, rigorous testing has proven to achieve outstanding interface pressure, specific to the user body weight as a result.
Clever Hose Management Chamber
The Hose Management Chamber offers a completely enclosed compartment inside the mattress cover, removing all potential for infection and damage through misuse.
Unique CPR Function / Actions
There is no requirement to frantically search for the CPR function in an emergency. Simply detach the mattress from the pump and commence CPR. Due to the nature of foam filled cells under low pressure, then CPR can also be administered whilst inflated.
Easy Transportation 
Workplace Health and Safety handles are integrated into the sides of the mattress cover, which assists in easy relocation for maintenance staff. Handles are positioned under the protecting "cover-flap" for effective infection control.
TECHNICAL INFORMATION
Risk Factor
Very High Risk (up to and including Grade IV pressure ulcer)
Advisory Weight Limits
39 stone or 248kgs
Mattress Dimensions
198cm x 88cm x 16cm (sloping to 9cm at Heel end) – (suitable for most hospital / homecare beds, although other sizes available upon request)
Mattress Weight 
<9kgs
Cycle Time
1 in 2
Cell Alternation Cycle
11.5 mins
Noise Output
Ultra-low – 45db
Pump Style
Available in both digital & analogue