OCEANIS BIRTHING POOL VIDEO – TAKE A TOUR!
Watch a brief product demonstration.
ENTRANCE STEPS WITH HANDRAIL
The innovative entry steps with handrails deliver a significant safety enhancement for women entering/leaving the pool.
The steps lock securely into position using the unique "flange" system, ensuring maximum stability during use & women can then use the supportive handrail to assist their entry/exit.
The innovative design ensures women are supported at every point during pool entry/exit and avoids excessive twisting and uncomfortable leg lifting.
When detached from the pool, the entry steps' integrated wheels allow them to be moved easily away from the pool to regain full access.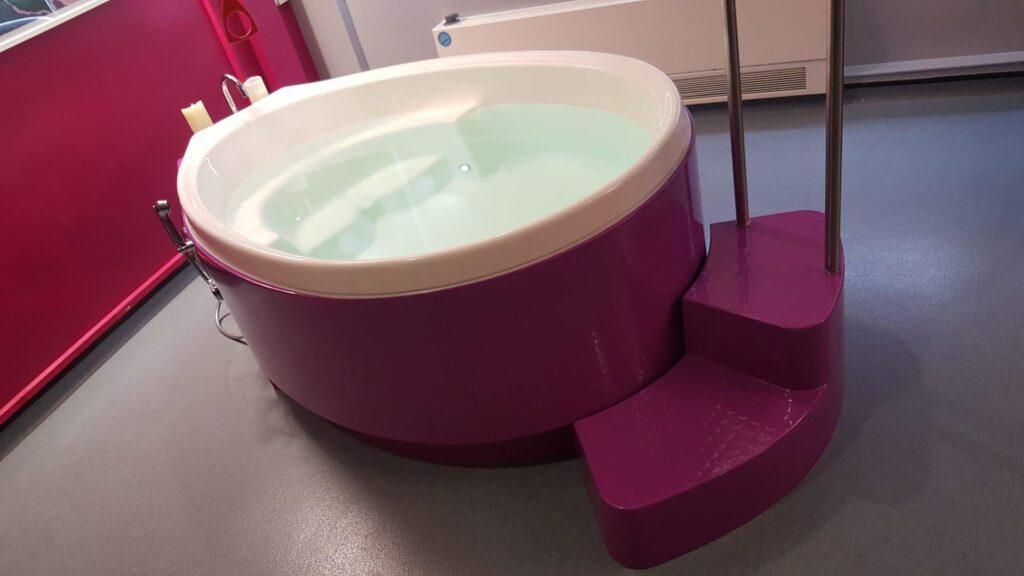 SECURELY LOCK IN POSITION



UNDERWATER LED LIGHTS
Fully integrated under-water LED Lights illuminate the water for assessment/examination purposes, eliminating the need to submerge torches and compromise infection control.
The lights are cool to touch, easy to wipe clean, and controlled from an ergonomically positioned push button located in the external shell of the pool.
They also have "run-dry" protection to prevent them from burn-out if used when not submerged.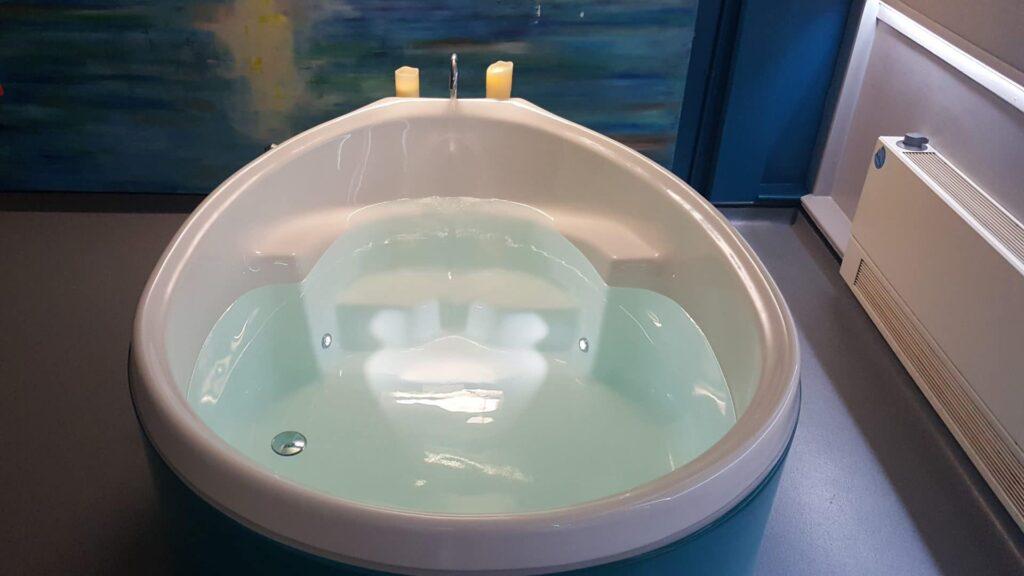 BIRTHING SEAT & FREEDOM OF MOVEMENT
With an integral birthing seat & perineal cut-out with armrests, the Oceanis is supplied as standard with an excellent specification.
The large, spacious base of the pool allows women to move freely without restriction.
The armrests and footrest positioning plates also offer additional options for women to find their most comfortable position.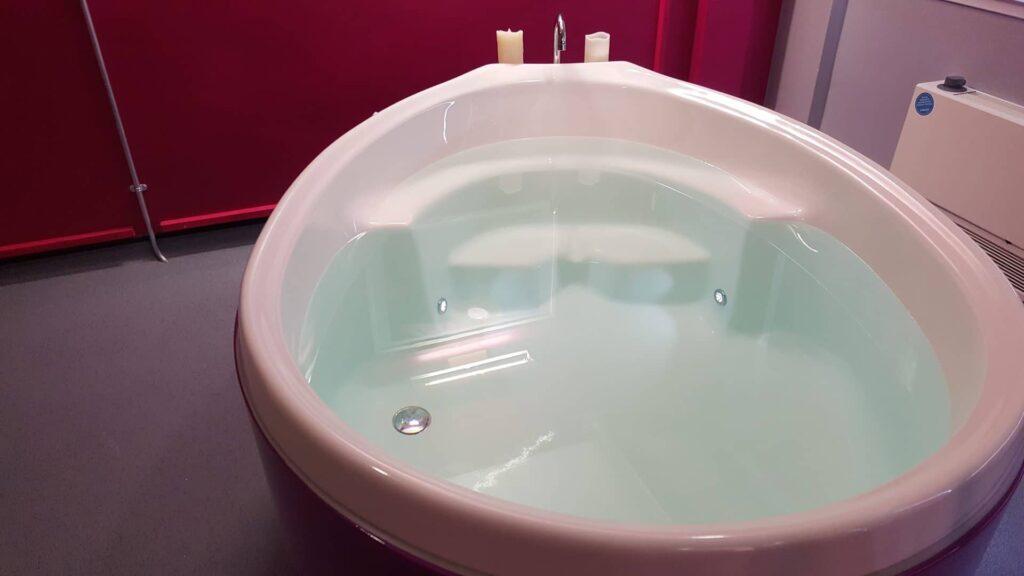 INTEGRATED POP-UP WASTE
The integrated pop-up waste is controlled by simply rotating the dial to open the drain.
The dial is conveniently & ergonomically located in the external shell of the pool to make emptying the pool an easily accessible & simple procedure.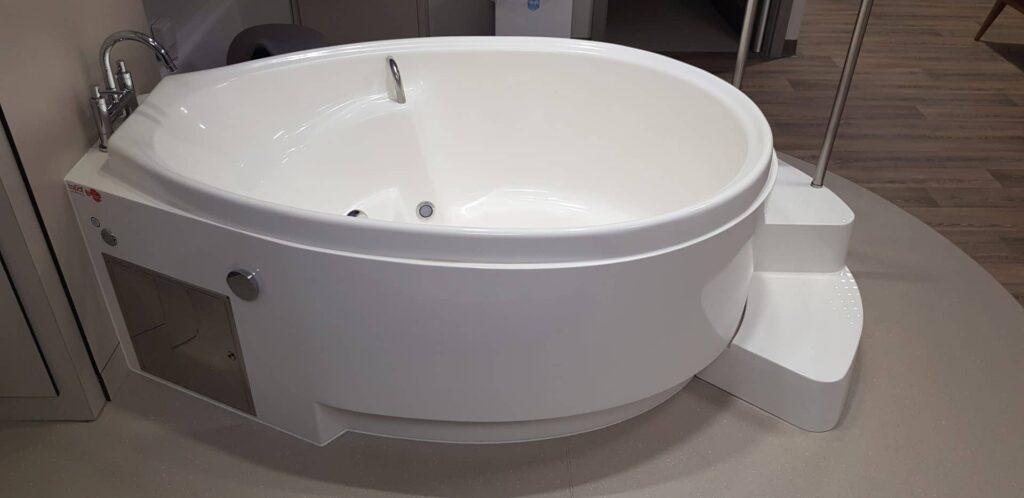 CHOICE OF COLOURS
You can choose the colour of the external shell of the pool to match your room decor and colour scheme.
Click this link to see some example colour choices:
The external shell of the pool can be chosen in any colour to match/contrast the design of the room. Just tell us the RAL colour code that is consistent with your colour scheme & we will match it.
The internal shell of the pool is always white.  This ensures maximum visibility for assessment/examination and also cleaning.
FILLING CONFIGURATIONS
The Oceanis is highly versatile and can be installed directly to an IPS wall or in a freestanding configuration, to suit the design of the room.
A fully integrated filling system with taps and mixers is also available for selection. Just connect the pool to the utilities and it's ready to use.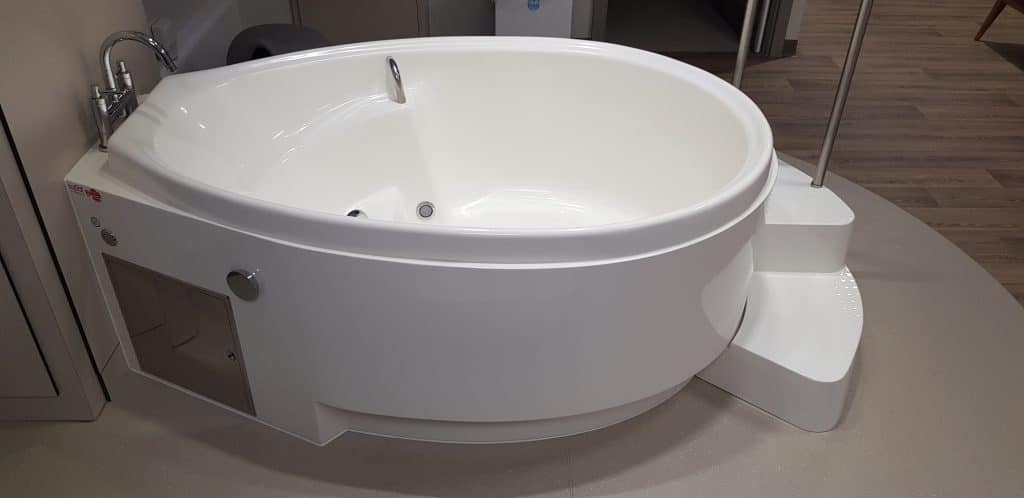 UNDER-POOL LIGHTING
Delivers a unique visual appearance where LED lighting illuminates the floor area. Can be pre-set to one colour or to auto-scroll through a selection of colours.
STEEL GRAB HANDLES
Can be integrated to offer women additional options for positioning stability inside the pool. Completely integrated into the form, there are no joins or difficult areas to clean.
CLINICAL RESEARCH SUPPORTING WATERBIRTH
Dr Claire Feeney explains how midwives can implement strategies to improve access to waterbirth for women using their maternity units