The Herida Suffolk™ mattress has been specifically designed for use on Mental Health and secure units where there is high risk of exposure to intended damage.
The high frequency welded cover is completely tamper proof and anti-vandal, whilst the comfortable, high density, castellated foam and cover combination is compliant to the most aggressive Crib 7 fire retardancy standards.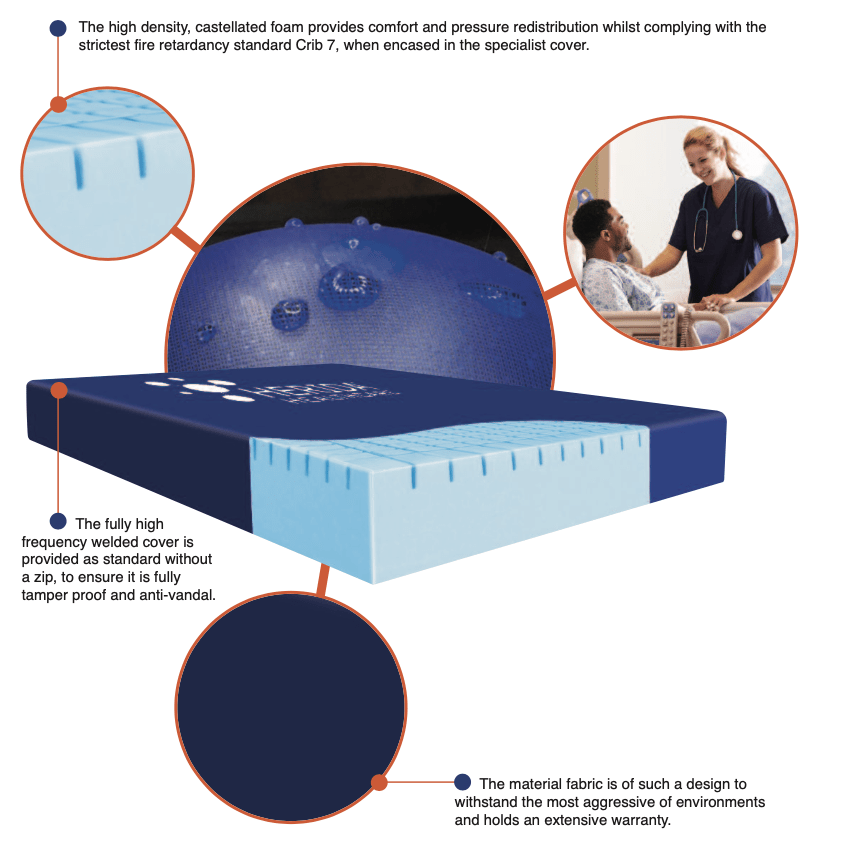 FEATURES & BENEFITS
Fully high frequency welded, toughened cover
Ensures the product is completely tamper proof and anti-vandal.
Complies with the strictest Crib 7 standard when used with our specialist cover and is suitable for the most aggressive of environments.
Ensures total comfort is achieved, whilst delivering excellent pressure re-distribution.
Provides total confidence to user via exceptional quality and workmanship
Giving peace of mind to nursing staff and patients alike
TECHNICAL INFORMATION
Very Severe
30 stones or 190 kgs (higher weight limits available upon request)
198cm x 88cm x 15cm (suitable for most hospital / homecare beds, although other sizes available upon request)
13 kgs
CME Mattress Replacement: 36 – 38kg / m³
Insert: 110 – 135N
100 – 150g (choice)
Fire Retardancy Standards
Fully complies with the highest Crib 7 testing standards
3 years (extended warranty available)