The AVE 2 birthing bed brings expectant mothers maximum safety and comfort. Thanks to the AVE 2, the birth takes place naturally according to their expectations. For healthcare staff the bed is a reliable and practical tool which improves the quality and facilitates the care of the woman in labour at all stages of birth. It creates a feeling of a pleasant and safe environment for the woman in labour and family members.
Attractive and functional design at first sight.
Women in labour can freely choose their birthing position.
High adjustment
Innovative telescopic solution provides extra low height for accessing the bed safely and extra height for treatment.
Extra low 600 mm height adjustment gives additional assurance to woman in labour accessing the bed and therefore it is suitable for labour exercises.
Maximum height 1 050 mm for perfect position during perineal repair.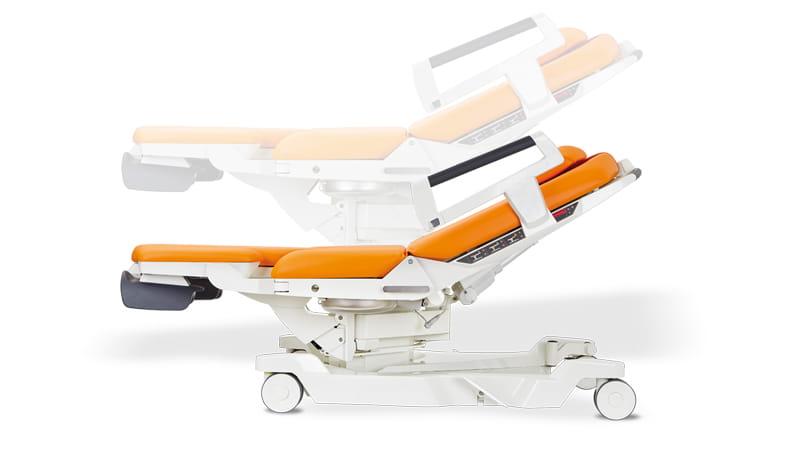 Retractable foot section
Simple swivel mechanism to hide the foot section which is fast and easy for delivery. It remains attached to bed, no storage on the floor.
By sliding up, you can get the bed quickly into the horizontal position while making use of a high load capacity of the section.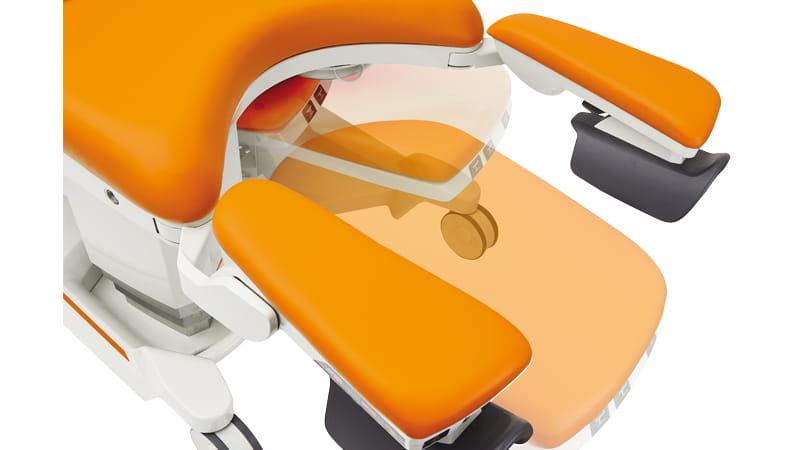 Leg rests
The firm conception of leg rests enables the care team to respond very quickly and effectively to different situations which may occur during the delivery.
When retracting the leg rests, the doctor or nurse has easy access to the mother in labour.
The setting of the leg rest height can be adjusted according to the bodily proportions of the mother in labour.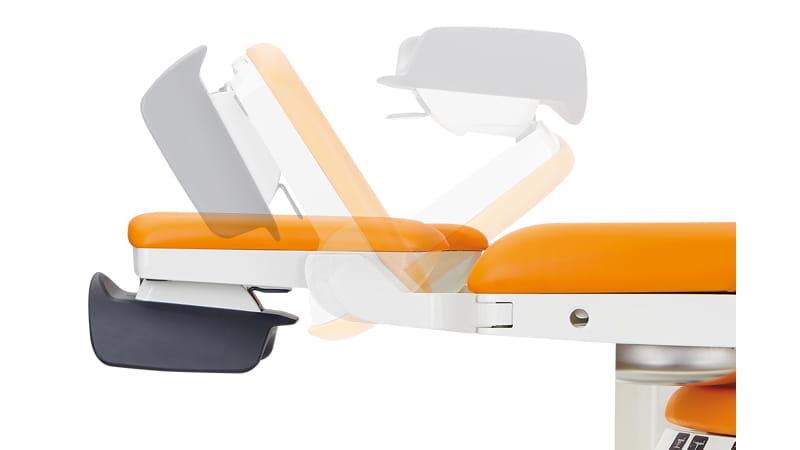 Independent seat tilting
The unique oval shape creating space needed for perineal access fits closely to the birthing tub minimizing transfer gaps.
There is independent motorized pelvic tilt for better coccyx elevation.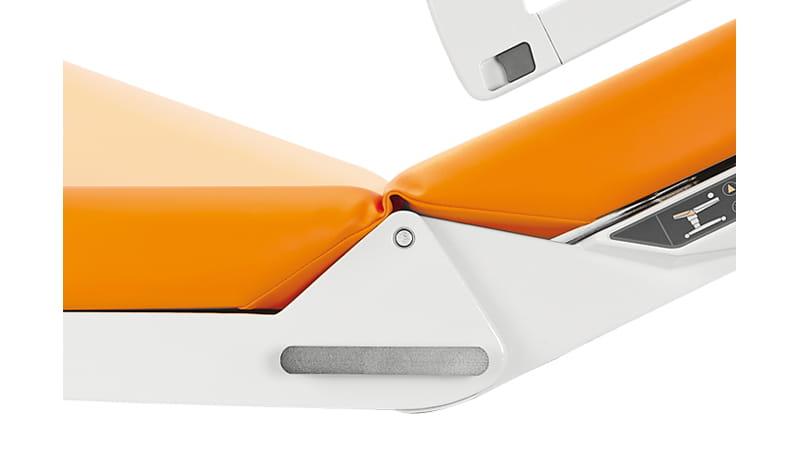 Siderails
Side rails with control panel easily integrated and concealable when transferring patients from one bed to another. Silent and easy turning with one hand. No additional space needed beside the bed. It serves as support to help patients sit up.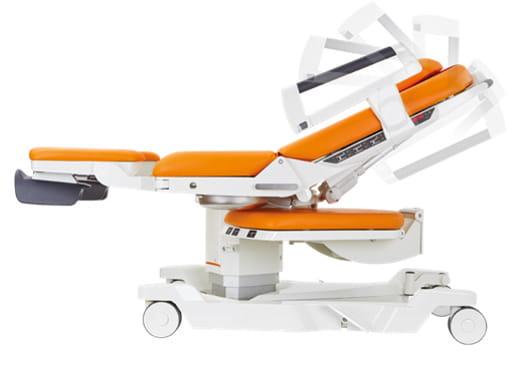 Simple control
Integrated control panel with clear pictograms and symbols for woman in labour and nursing staff.
Nurses control locking of controlling movements.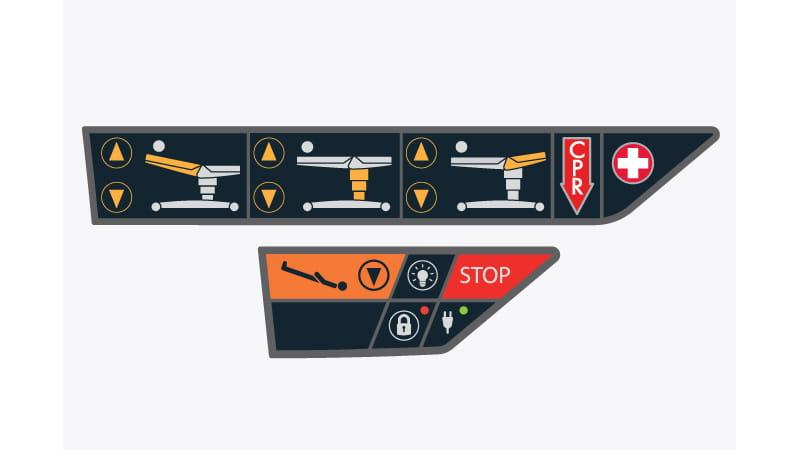 Hygiene and safety
High hygienic standard and compact construction of particular sections of the rest area and the plastic cover of the bed base reduce the time needed for the cleaning of the bed.
The firm construction of the birthing bed contains no cutting points or sharp edges, which increases the safety of the attending personnel.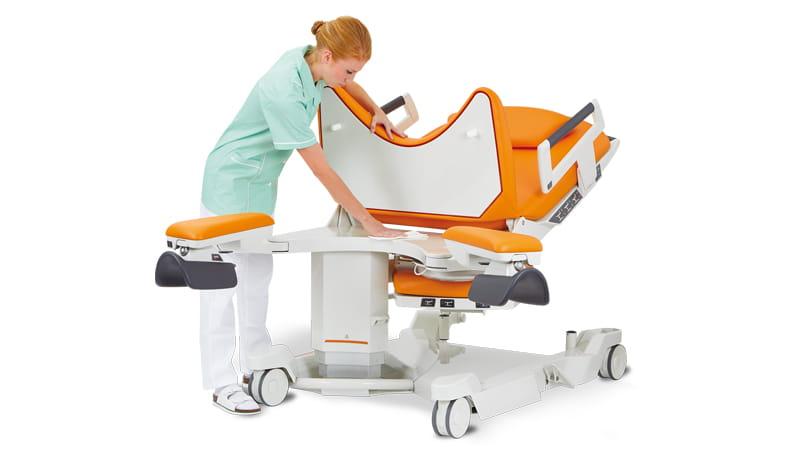 Choice of birthing positions
Yes to natural childbirths. The woman in labour can choose a suitable position during labour thanks to the AVE 2 bed.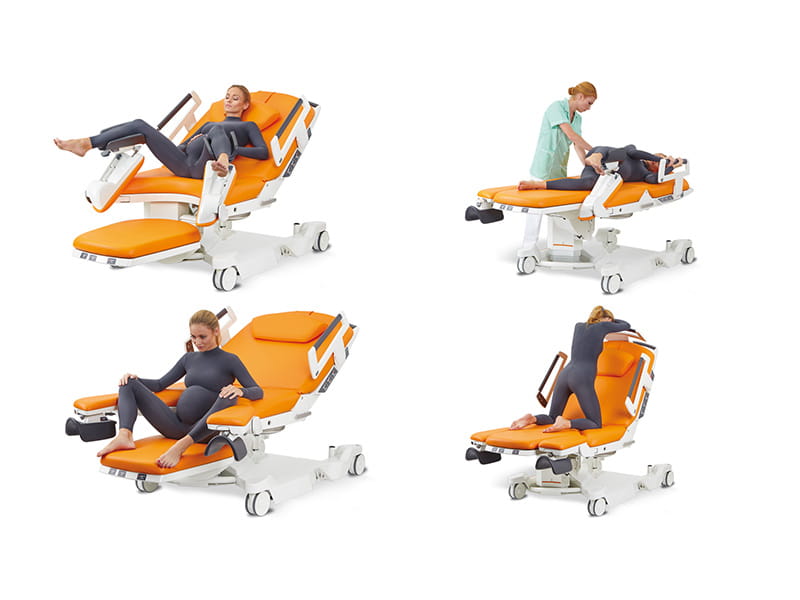 Technical parameters
| | |
| --- | --- |
| Total length of the lying area | 2122 mm |
| Minimum length in the default setting | 1570 mm |
| Full width | 980 mm |
| Castor size | 150 mm |
| Minimum height | 600 mm |
| Maximum height | 1050 mm |
| Back section | -10°/+70° |
| Seat section | 0°/+18,5° |
| Trendelenburg position | 0°/-10° |
| Leg rests vertical | 0°/+135° |
| Leg rests horizontal | 0°/+60° |
| Foot section adjustment angle | 0°/-22° |
| Maximum patient load | 240 kg |
| Overall product weight | 245 kg |
Electric parameters
Batteries – back-up
24V/1.2 Ah
Voltage – input
230 V
Motor voltage
24 V
Ingress protection of the birthing bed
IPX4
Device class I.
Classification of applied parts B
Features
Trendelenburg and CPR
Extra battery backup
ABS easily disinfect
Lockout Control
No scissor-lift column system
Central brake easy to access
Easy transport with directional castor and pushing handles
Removable headboard for anesthesiologist (optional)
Nurse Call (optional)
Tilting holders for IV pole
Hygiene and safety
Bacterial static leather
Seamless upholstery
Compact and separate space
Electrostatically painted with epoxy powder
Coating against corrosion
Colour options
Choose different colour versions to meet the style of your individual delivery room interior.