THE BENEFITS OF AN ELECTRIC MATERNITY RECLINER CHAIR
POST SURGERY COMFORT AND RECOVERY
The Croyde Electric Maternity Chair aids sitting, reclining, and rising at the touch of a button.
It makes the immediate postnatal period more comfortable for women who have restricted mobility, who are experiencing pelvic girdle pain or are recovering from invasive procedures. For women who have undergone a caesarean section, it reduces the use of abdominal muscles and back strain by gently lifting them to a standing position.
The chair has a significant weight capacity of 120kg with an optional upgrade to 160kg (25 stones) to accommodate clients that need more support.
INFANT FEEDING BENEFITS
The chair also facilitates ideal infant feeding positions for mother and baby. The reclining backrest allows babies to feed in the semi-recumbent chest-to-chest position that is most comfortable for the mother. Padded armrests give comfortable arm placement and support the chosen feeding position.
For partners and carers, the chair positions them perfectly for skin-to-skin contact when bonding with the baby.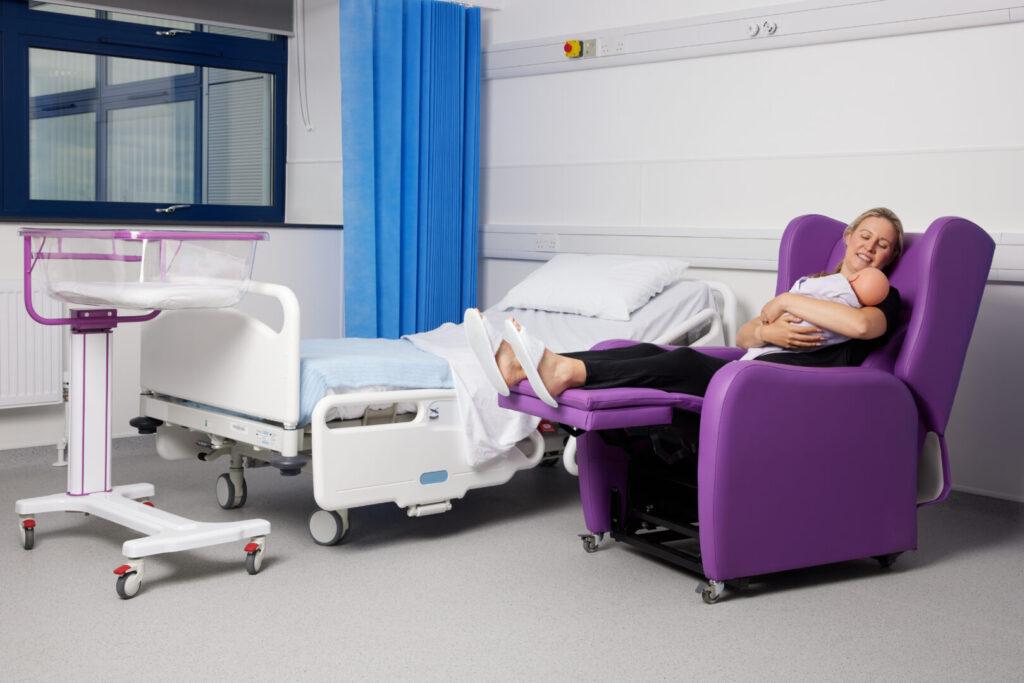 FOOTSTOOL & INFANT FEEDING PILLOW
The Croyde Maternity Recliner "Set" includes the optional footrest and feeding pillow to give even greater support to mother and baby.
The angled footrest gives appropriate support and stability when the chair is in the upright position.
The infant feeding pillow supports optimum feeding positions, reducing the need for women to bring additional items into hospital, thus increasing available space.
Both the footrest and the infant feeding pillow are available to purchase separately.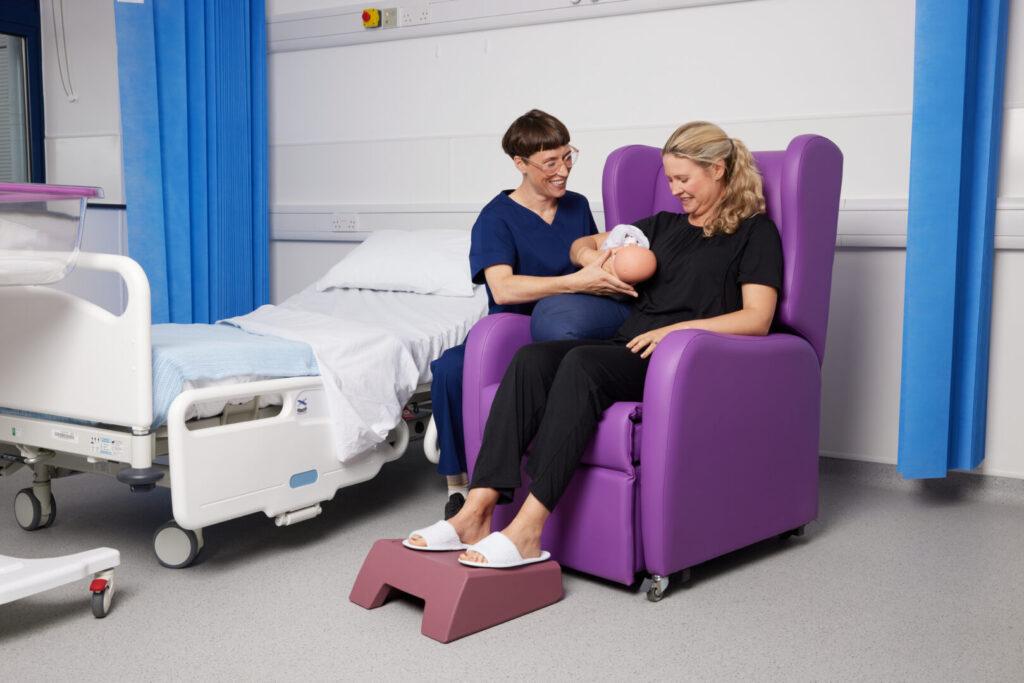 DESIGNED FOR MATERNITY WARDS
The Croyde Electric Maternity Chair provides a multi-use bedside package for maternity wards:
Support overnight stays without needing additional equipment, replicating the home environment and improving bonding with birth partners
The high-winged backrest gives neck and shoulder support and provides privacy in bay areas
CHOICE OF COLOUR
Choose from a wide range of colours to suit your room design.
Click the colours below to change the view or choose from our colour chart below.
EASY TO MOVE AND CLEAN
Wheels allow easy movement within the room and foot activated brakes anchor the chair without needing to bend down.
Compatible with hospital approved wipes and chlorine based cleaning solutions, the Croyde Electric Maternity Recliner is perfectly suited for use in high traffic, multi-use ward areas.