DESIGN
Our new feeding pillow is a waterproof beanbag, ergonomically-shaped to support different feeding positions. Ideal for busy maternity wards: it can be wiped clean ready for the next client, and doesn't take up large amounts of room in bay areas.
Features include a covered zip, waterproof and stretchable material and bi-lateral use, supporting left side or right sided feeding.
COMFORT
By supporting arms and elbows, there is less pressure on the shoulders, reducing upper back pain.
The pillow can be used as a buffer between a caesarean section scar and a feeding baby, taking pressure off the abdomen and supporting long periods of baby interaction.
In neonatal units having a pillow for support promotes kangaroo care and parent bonding outside the incubator.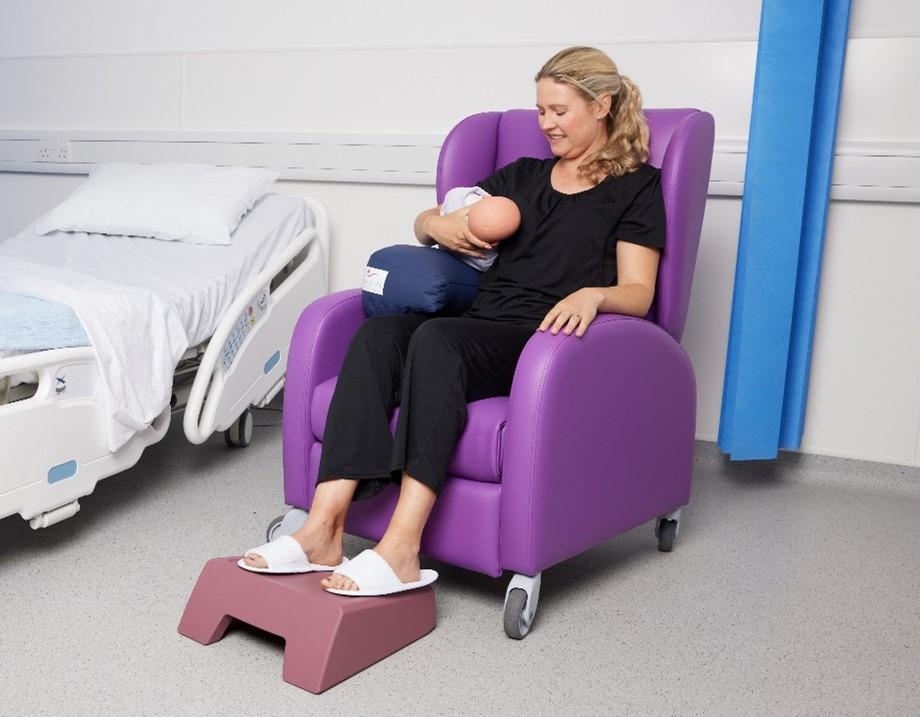 SUPPORT
The pillow offers support in both bottle and breast positions. Below are some NHS-recommended feeding positions, all of which are more comfortable when supported by the Croyde Infant Feeding Pillow.
Cradle hold:
Use the Croyde Infant Feeding Pillow to support the mother in an upright position when feeding in a bed or chair. Positioning the pillow between the baby and the abdomen can relieve any uncomfortable pressure.
Underarm (also known as rugby hold): 
Support the baby on the Croyde Infant Feeding Pillow positioned at the mother's side, bringing them to nipple height without the mother having to hold the baby's weight.
Biological Nursing (also known as laid-back nursing):
When lying back in this position, use the Croyde Infant Feeding Pillow to support the back, shoulders and neck to avoid strain, allowing the mother to look into the baby's eyes during feeding.