DESIGN
The Croyde Floor Mat is a large, comfortable floor mat with the unique ability to fold in half for easier storage.
Its innovative, folding feature offers women a large surface area to move around on, without causing storage and handling issues for the midwifery team.
VIDEO GALLERY
SPACE SAVING FEATURE
The Croyde Floor mat is a large, comfortable surface measuring 2m x 1.2m in its full-length position but can be folded into a small 1.2m x 1m rectangle for easy storage when not in use.
At just 4kg in weight, it is also lightweight and exceptionally easy to set up and move.
The folding technology incorporated in this mat is already present in the design of the Croyde Birthing Couch & delivers exceptional performance and longevity.
INTEGRATED GRAB HANDLES
The integrated grab handles on the underside of the mat allow it to be carried safely by just one person.  They are located on both sides of the mat and suit left hand or right-hand carrying.
The base material is highly durable and also ensures that the mat is stable when placed on the floor.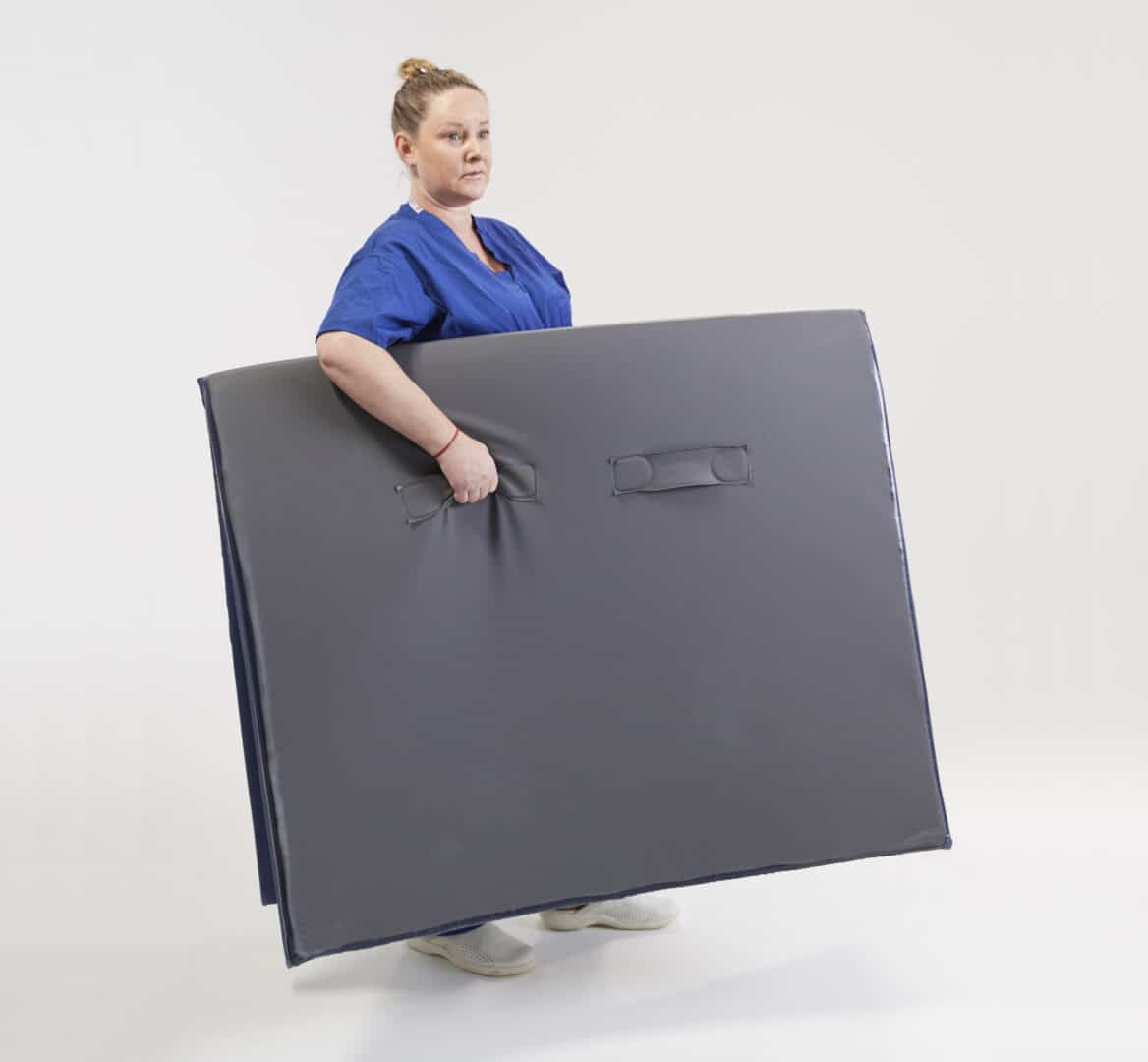 CLEANING & INFECTION CONTROL
Croyde Floor Mats are covered in a high-quality, medical-grade fabric that is designed to be wiped down in-between use. The highly durable covers are compatible with hospital wipes and chlorine-based solutions.
All seams are sealed and are protected by a layer of PU tape which is monolithically bonded into the material. This process ensures that the fabric is seamless and moulded into one single form.  It also gives the fabric extra strength and durability to further resist fluid ingress.
FLOOR MAT RANGE
The Croyde Floor Mat is a fantastic solution for those looking for a large mat that can be stored easily after use.  However, not all rooms are blessed with space.  Sometimes a smaller mat is required.
Croyde Medical offers a range of floor mats with different size options:
Kneeling mats at 40cm x 40cm
Floor mats at 1m x 1m,
Floor mats at 2m x 1.2m
Bespoke design mats to your chosen size.  Please contact us to discuss your specific requirements.
CROYDE PRODUCT SYNERGY
Croyde Floor Mats perfectly complement the other Croyde birthing products to deliver an array of birthing positions – Croyde Birthing Beanbag, Croyde Positioning Pillow and Croyde Positioning Wedge.