Transformative true-daylight technology for Patients & Staff.
Our LED Sky Ceiling panels create strikingly realistic, high-quality virtual skylights that illuminate healthcare spaces and connect patients, staff, and visitors to the outside world.
From the high resolution sky scene imagery to the intelligent lighting controls, every solution we produce is customised to your space & requirements.
Ultra-efficient Daylight LED Technology
We manufacture our LED Sky Ceiling panels with high lumen-per-watt SMD LEDs from trusted brands (Samsung® & Cree®). Combined with our custom-designed light diffuser, these SMD LEDs deliver a flicker-free, true-daylight colour temperature of 6500K from as little as 12.5W per panel.
Any quantity.
Any configuration.
We create custom, expanded LED Sky scenes, with no repeating patterns, in any configuration, across any number of panels.
UV Stable, High Resolution Imagery
Our LED Sky Ceiling panels are strikingly realistic. We use carefully selected, high-resolution imagery to create sky scenes that are true to life & print using specialist UV-pigmented ink ensuring our colour tones stand the test of time.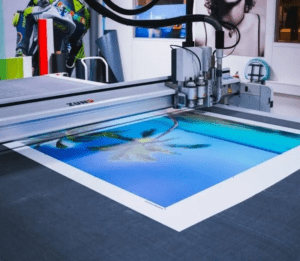 Recessed, Three-Dimensional Frame
Our LED Sky Ceiling panels feature a distinct 3D recess. The surrounding aluminium frame elevates the image behind the ceiling level, resulting in a realistic virtual window effect.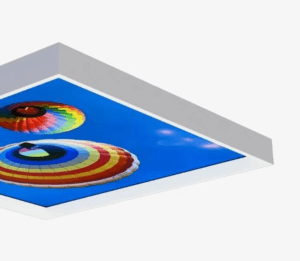 Choose from 000's of sky image options
Choose from our curated range or, the extensive Shutterstock.com library. You can even supply your own.
Control it your way
As standard, all LED Sky Ceiling panels are supplied with plug and play, multi-lead, Meanwell® LED drivers that simply operate on/off. We can also supply various types of dimmable LED drivers (DALI, Push-Dim, 0-10v etc.), wired, dimmable wall switches, and wireless RF switches. If you have a specific control requirement, simply get in touch. We'll always aim to meet your specific project needs.
Human centric lighting.
Dawn to dusk.
This advanced control option incorporates tunable white LED's with a temperature range from a cool 6500K to a warm 2700K, and anywhere in between.
Human centric lighting allows us to simulate the daily light cycle of dawn to dusk that regulates our bodies circadian rhythm, bringing about positive effects on our comfort, health, and general well-being.
We connect patients, staff, and visitors with the natural environment, resulting in substantial therapeutic benefits.
Positive distraction
Reducing anxiety & creating a calming environment for patients during procedures & treatments.
Improved recovery
Numerous studies have shown a positive correlation between biophilic design and patient recovery times.
Reduced delirium
Helping patients maintain a sense of time & regulating the human body's natural circadian rhythm.
Evokes memories
Familiar local scenery can help to provide comfort & instil a sense of calm among Dementia & Alzheimer's patients.
Reduced fatigue
Creating relaxing, calming, breakout sanctuaries for staff helping them to recharge.
Promotes productivity
Brighter spaces with captivating imagery succeed in providing inspiration & help to improve staff morale.