The Multicare intensive care and therapy bed is an ideal solution for the demanding special needs of critically ill patients. The bed uses innovative technologies to create an ideal combination of clinical benefits for patients and staff – medical, nursing and therapy.
Unique features help to provide essential support to patient's vital functions and offer excellent working conditions for staff to minimize risks associated with patient care in the critical or intensive care environment. This ensures that the patient can be treated safely and effortlessly. Multicare is a set of distinctive features and leading technology which provides solutions for many of the challenges faced in the high acuity environment.
Advanced therapy capability
LINET's platform provides continuous lateral rotation therapy via the bed frame known as Automatic Lateral Therapy® (ALT). Simple programming allows patients to rotate up to 30 degrees for continuous therapy. This feature of Multicare helps prevent ventilator associated pneumonia (VAP), mobilize secretions and improve gas exchange.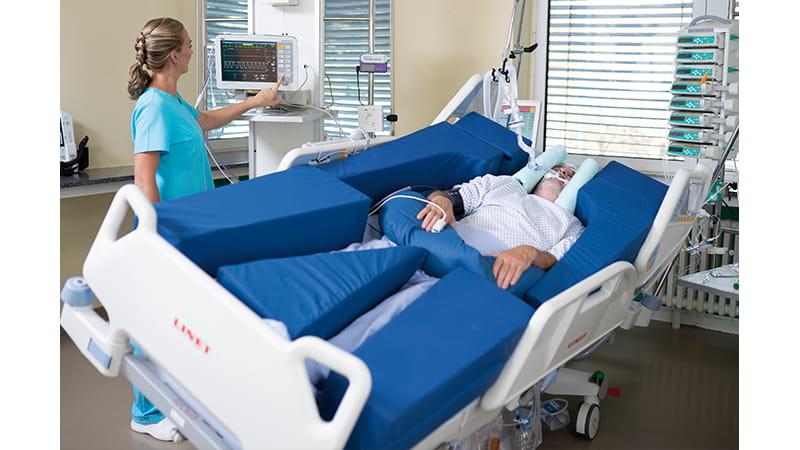 Early Mobilization with LINET
ACCNA (American Association of Critical-Care Nurses) has inspired the clinical team of LINET to create a LINET 4-level Early Mobilization program using unique Multicare features like ALT®, Lateral Tilt, Mobi-lift®, Orthopnoeic chair and other.
Use the Early Mobilization with the LINET concept and influence the length of stay in your ICU. Improve the early mobilization process, assist in the recovery process of intensive care patients and make caregiving less strenuous and more productive.
Ask us how to include Multicare features into your mobility program!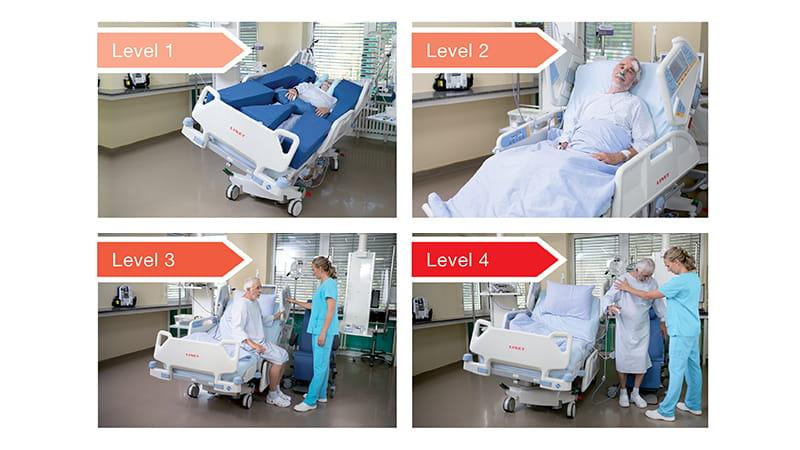 Ease of nursing
The following Multicare features are designed for ease of caregiver use while minimizing the physical strain encountered by the nursing staff when providing care:
A unique Mobi-Lift® handle allows for active participation of the patient during mobilization.
The 15-degree unique platform-based Lateral Tilt function assists with turning patients. Use the foot pedal when turning the patient and have your hands free at the same time for nursing activities.
Explore motorized patient transportation with minimum manpower using i-Drive power®.
The automatic integrated scales indicate the actual weight of the patient and information about history of the collected data.
The X-ray translucent mattress platform allows for integrated X-ray examination or C-arm scanning.
Easily accessible and intuitive Multiboard control touch panel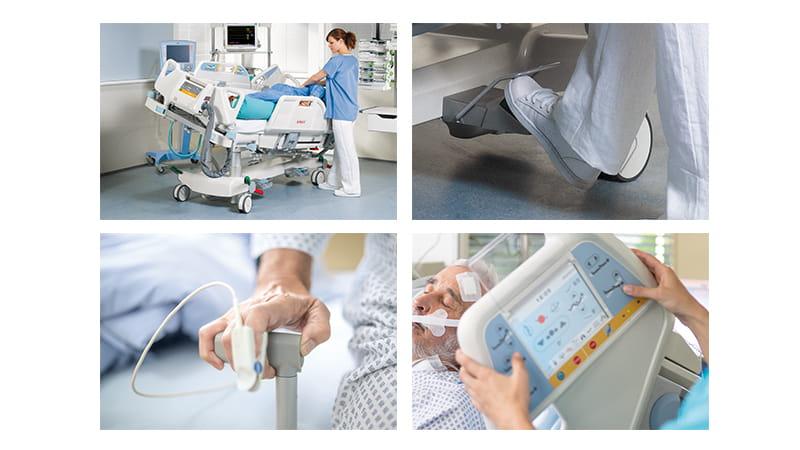 Patient safety and comfort
The unique siderail concept, the Multi Zone Bed Exit Alarm, and the intelligent braking features that automatically engage after 60 seconds when the bed is plugged into the power socket help ensure that each patient is protected from potential falls.
The minimum gap siderail design also reduces the risk of patient entrapment.
The Orthopnoeic chair position helps to maximize the respiratory function as well as hemodynamic and orthostatic training and enhances patient comfort.
30 degree STOP position helps to prevent ventilator-associated pneumonia (VAP) and development of pressure ulcers.
Vascular position with legs at heart level optimizes venous return and has a positive impact on swelling (oedema) reduction. It helps relieve back pain.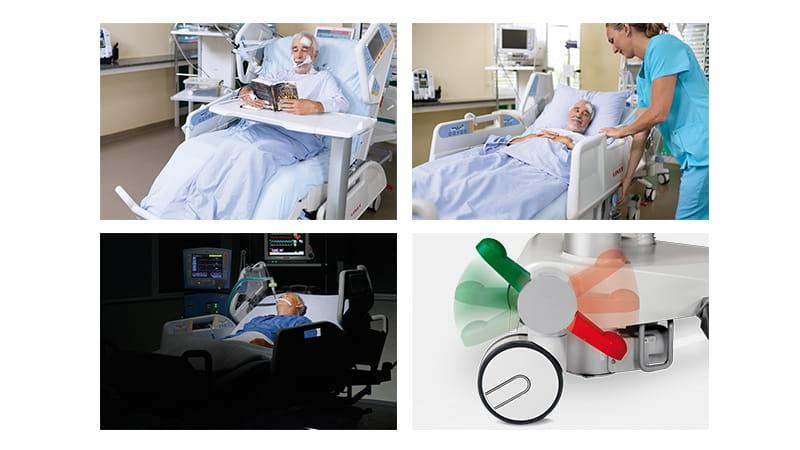 Pressure injury prevention
The Multicare bed helps to reduce pressure and shear due to its Ergoframe® technology. Inspired by wound care experts, this feature significantly aids in the prevention of pressure injuries by increasing envelopment capacity in the sacral area as the bed articulates.
With Multicare open architecture you can choose among the LINET range of active and reactive mattresses
The Automatic Lateral Therapy®, Lateral Tilt and Micro-shifting® are a great solution even for pressure injury prevention in patients who cannot be turned manually due to a serious medical condition, or when only a turn by 1-3 degrees is possible.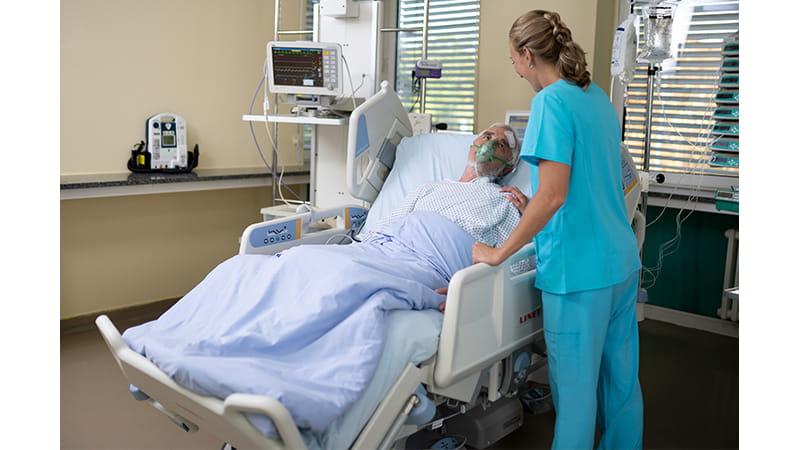 Technical parameters
| | |
| --- | --- |
| Outer dimensions (side rails up) | 215 x 105cm |
| Mattress platform extension | 22cm |
| Recommended mattress size* | 208 x 86cm |
| Max. mattress height | 23cm |
| Bed height | 44 –82cm |
| Maximum backrest angle | 70° |
| Maximum thigh rest angle | 30° |
| Lateral tilt | 30° |
| Trendelenburg/reverse Trendelenburg position | 13°/16° |
| Heightof side rails (above mattress platform) | 45cm |
| Weight (basic equipment) | 224kg |
| Safe working load | 250kg |
| Lifting pole bearing capacity | 75kg |
* The mattress dimensions can range between 200 – 217 x 86 – 96 cm
Basic positioning and adjustments
Height adjustment motors
TR/ATR tilt adjustment motors
Lateral tilt adjustment motors
Backrest adjustment motor
Thighrest adjustment motor
Calfrest adjustment motor
Bed extension motor
Control Elements
Multiboard with LCD touchscreen in both head side rails
Patient controls in the side rails
Handset
Supervisor panel
Foot controls
Side Rails Concept
Plastic split side rails with integrated controls
Safe gap concept (entrapment prevention)
Side rails down sensors
Mattress Platform
4-section mattress platform
Ergoframe
Non-removable HPL covers
X-ray translucent
C arm compatible
General Concept
The column unit is patented. The bed's unique construction base provides great stability and guarantees continued functionality when loaded to 250 kg (safe working load).
Bed ends
Removable plastic bed ends with multicare design
Foot end with safety locks
Castors and brakes
4 castors 150 mm Tente Integral
4 double castors 150 mm Tente Integral (O)
Central castors control adjustable from 4 points
Retractable 5th castor i-drive (O)
Automatic brake i-brake (O)