Discover the new LINET bed Eleganza 5. The bed helps to maintain vital signs of the patient and enables staff to treat the patient safely and with minimal effort with the help of highly sophisticated features and functions.
Art of turning
Innovative tilting technology with smooth columns helps turn the patient gently with less physical effort.
The nurse will carry out routine nursing procedures ergonomically and effortlessly.
Helps to improve pressure injury prevention – regular patient positioning is therefore easy.
New technology: smooth bed tilting for even more sensitive care.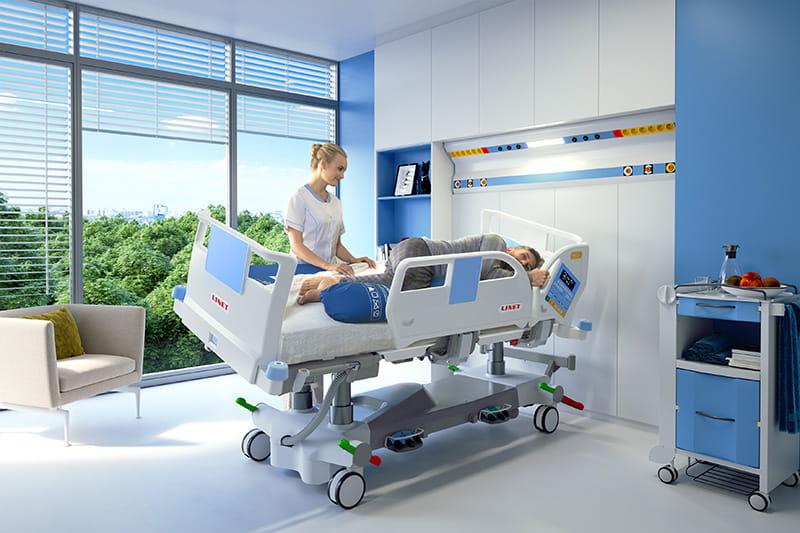 Art of safety
Sophisticated safety features controlled by the monitoring system
Safety under control – The BedMonitor system continuously monitors the main safety features of all beds in the department.
Siderails Concept – Reduced side space needed for siderails release.
i-Brake – The automatic brake prevents falls caused by the unstable bed, especially during bed exit.
Safe Stop – Prevention of injuries due to crushing by the lowered mattress platform.
Multizone bed exit alarm – Fall prevention by monitoring the patient's motion activity and presence in the bed.
30 degree autostop – The automatic backrest stop at 30 degrees helps to improve respiration.
Lowest height – The lowest bed height helps to minimize the severity of fall consequences.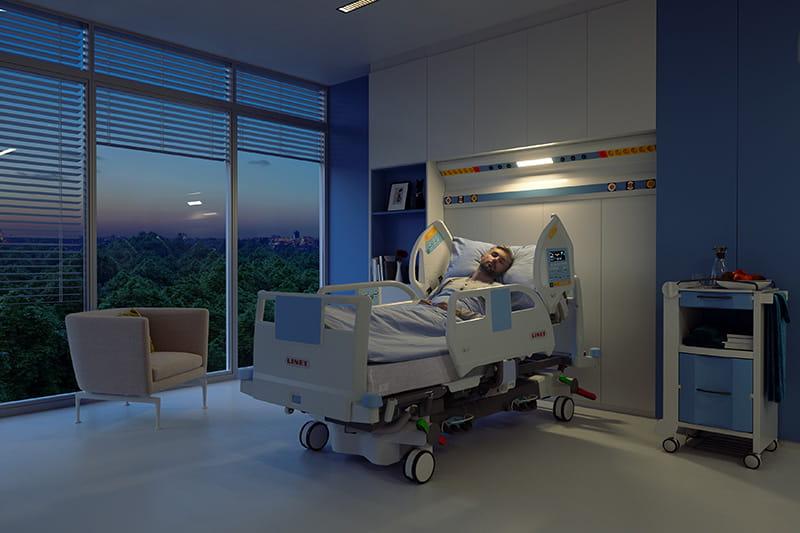 Art of mobilisation
New progressive features work in symbiosis for early patient mobilization.
MobiLift® – The patient controls the bed height using the MobiLift® handle.
MobiRails – Ergonomically shaped handles in siderails.
Lateral Tilt – The height setting and side tilt will assist the patient's bed exit.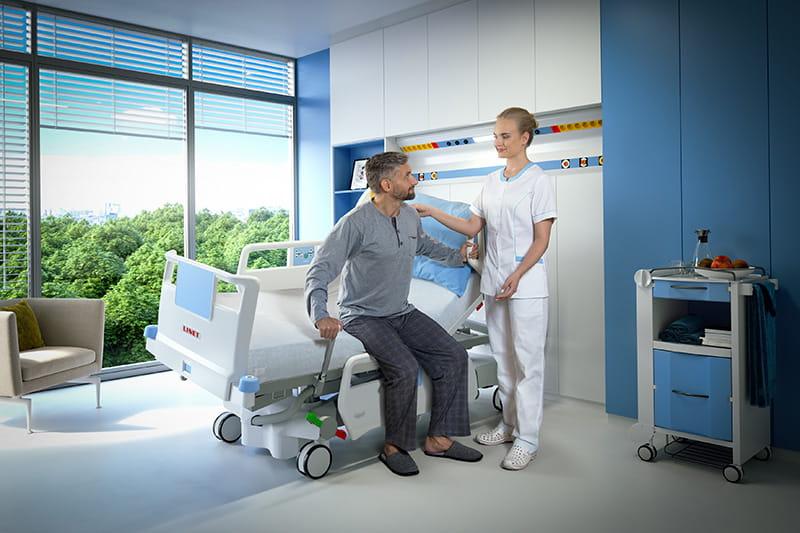 Art of positioning
Cardiac chair position – Provides relief during respiratory problems and is very pleasant for the patient when reading, eating or watching television.
Fowler position 30/30 with Ergoframe – Equal pressure distribution for skin damage prevention. Minimized friction and shear effect during thighrest and backrest elevation. Less pressure load on the tissue due to the extended pelvic area space.
Tilt table position – Improves the patient's breathing and maintains arterial blood pressure at a more stable range.
Vascular position – A position with legs at heart level: optimized venous return and positive impact on swelling (edema) reduction. Help in back ache relief.
Full vascular position – Full access for skin inspection & wound care in the heel area. Passive Leg Raise (PLR) – a clinical technique that is only used when ordered by a physician to assess fluid status without the use of a central line.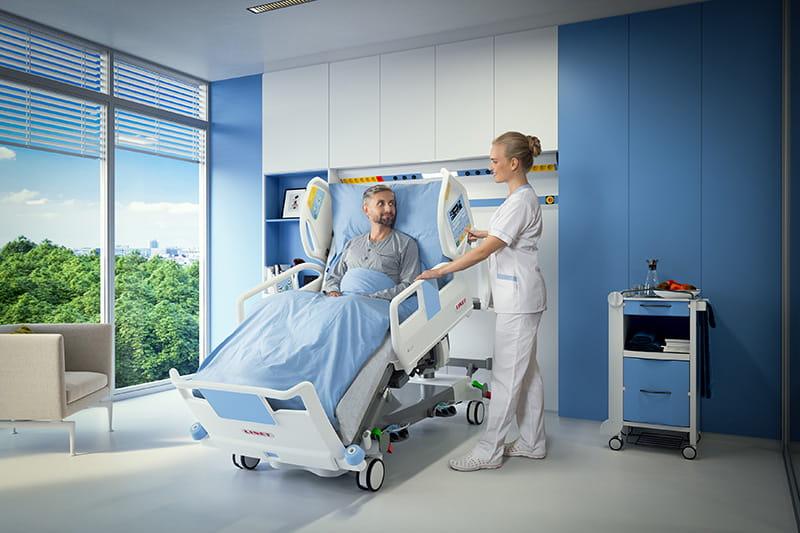 Art of communication
Smart technology and bed connectivity for a new way of communication.
Bedmonitor system – Using sensors built into the bed it monitors the settings of the safety parameters.
Connectivity – Using the integration module the bed sends the necessary data to the hospital information system. Wifi or LAN connection.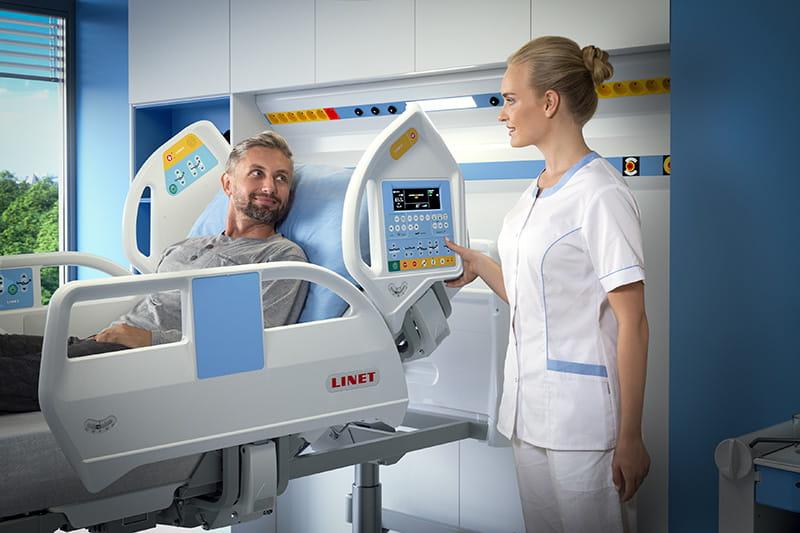 Technical parameters
| | |
| --- | --- |
| External dimensions | 219 ×100 cm |
| Bed extension | 22 cm |
| Mattress dimension | 208 x 90 cm |
| Siderail Height above Mattress Platform | 45 cm |
| Height adjustment | 43.5 – 81.5 cm |
| Lateral tilt | 15° |
| TR/ATR tilt | 14°/14° |
| Safe working load | 250 kg |
Practical details
Foot controls
Practical foot controls for the easy handling of patients
Horizontal corner bumpers
Protect the bed
Mattress platform
An easily removable and cleanable mattress platform
Mechanical CPR
Additional option to electrical CPR for urgent use
5th castor
Increases the flexibility of manoeuvring the bed in small spaces. Makes driving the bed easier along long corridors
Integrated patient controls
With illuminated keyboards
Bed ends
Ergonomically shaped bed ends for easy transport
Basic positioning and adjustments
Height adjustment motors
TR/ATR tilt adjustment motors
Lateral tilt adjustment motors
Backrest adjustment motor
Thighrest adjustment motor
Calfrest adjustment motor
Bed extension motor
Control Elements
iBoard in both head side rails
Patient controls in the side rails illuminated
Handset
Supervisor panel
Foot controls
Side Rails Concept
Plastic split side rails with integrated controls
Safe gap concept (entrapment prevention)
Side rails down sensors
Mattress Platform
4-section mattress platform
Ergoframe
Removable plastic covers
X-ray translucent (option) backrest
General Concept
The column unit is patented. The bed's unique construction base provides great stability and guarantees continued functionality when loaded to 250 kg (safe working load)
Bed ends
Removable plastic bed ends with E5 design
Bed ends with safety locks
Mobilisation elements
Castors and brakes
4 castors 150 mm Tente Integral
4 double castors 150 mm Tente Integral (O)
Central castors control adjustable from 4 points
Retractable 5th castor i-drive (O)
Automatic brake i-brake (O)
Special features
Integrated scales
Multi Zone Bed Exit Alarm
Nurse call (O)
Safe stop (O)
Night light
Digital angle indicator
Bed monitor