ENHANCED PATIENT OUTCOMES
EARLY MOBILIZATION
Mobi-Lift®, Mobi-Pad & Mobi-Grips promote patient mobilization which can potentially decrease the length of hospital stay and the associated complications.
FALLS PREVENTION
Brake alarm, low height & monitoring of patient by SafeSense 3 help to prevent patients' falls.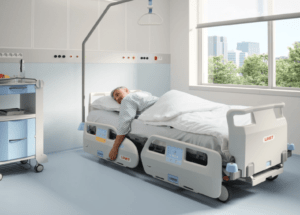 IMPROVE PATIENT EXPERIENCE
Bed features increasing patients comfort during hospital stay lead to better satisfaction and health outcomes.
PRESSURE INJURY PREVENTION
The integrated Air2Care mattress with 2-cell alternating pressure technology provides effective pressure relief.
The integrated Air2Care
Alternating pressure mattress provides periodic pressure relief.
Intermittent Pressure Reduction
Due to the alternating 2-cell system, Air2Care reduces pressure and helps to minimize sustained pressure peaks to the patient's body. Alternating pressure can be used for pressure injury prevention as part of an overall program of care.
Automatic Pressure Setting with the Easy Smart System
At the press of a button, the mattress will automatically and continuously adjust to the patient's individual size, weight and position.
Wide range of mattresses for Essenza
To provide high patient comfort and prevention of pressure injuries, LINET offers a wide choice of mattress replacements for Essenza according to the needs of patients with different risk levels of pressure injury development.